First, the good news: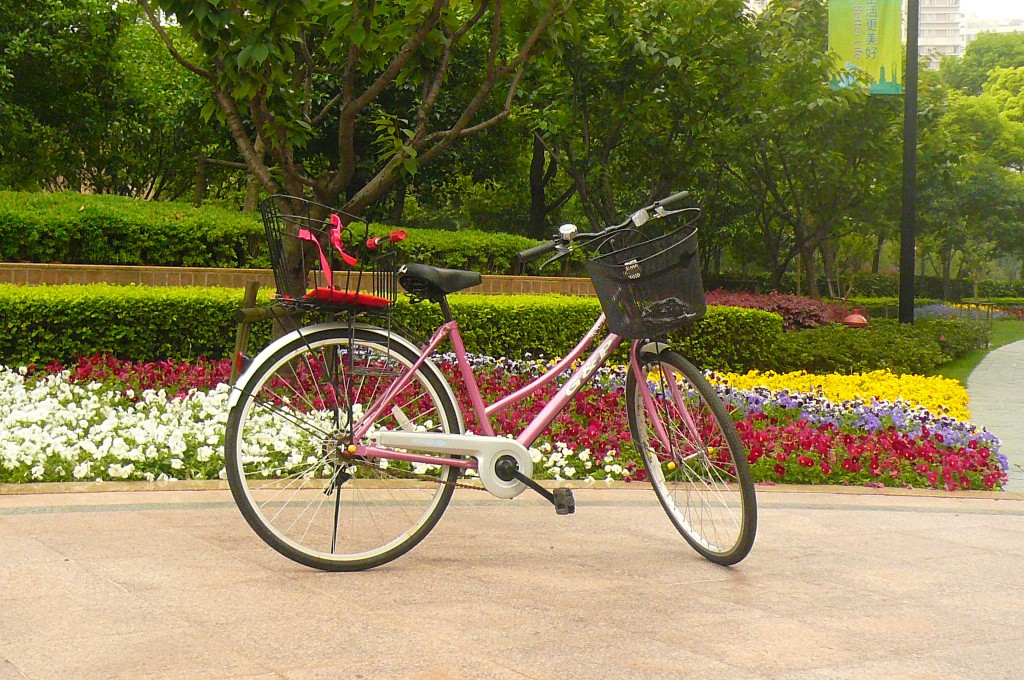 I have a pretty pretty new bicycle!
Well, a new lightly-used bicycle anyway. I have been thinking of getting one for a while, in a sort of offhand way, and then out of the blue a friend asked me if I would like hers. For free. So I was like, um, yeah, totally fer sher!
I made arrangements to go collect it from her place today. She lives about a 20 minute cab ride away, give or take – much farther than you'd want to walk, but not a bad distance for a bike ride. I mentioned to G last night that I'd be going over to get and he asks, "How do you plan to get it home?"
me: Uh… I was gonna…
him: You're planning to ride it back here?!?!
me: well… yeah. It's a bicycle. That's what you do with them.
him: You're planning to ride it back here?!?!
me: …yeah?
him: Are you serious?!?!? When was the last time you rode a bicycle in a city?!?!?
me: Well… (thinking)… OK it's been a long time, but I'm pretty sure that it's, you know, like riding a bicycle. I mean there's a saying about it, you know?
him: You're going to wear my helmet, aren't you?
me: (silence)
him: You were going to ride it without a helmet?!?!?!
me: OK yeah, it's probably a good idea, since I haven't ridden for a while, ok, I'll wear it.
him: DAMN RIGHT YOU WILL WEAR IT
me: Relax, come on, you see all these numptys riding around this place every day, it's China, people ride bicycles, you know.
him: AND THEY'RE ALL IDIOTS. Probably from knocking their heads falling off bicycles without helmets.
Well anyway. The ride home was super easy-peasy. It was only 3 roads, two of which had very pleasant, wide, separate bike lanes the whole way along (Yangao Lu and Yuanshen Lu), and the third of which had one for about half the length I needed to travel on it (Shangcheng Lu). The last block and half was really the hardest, as that was the only bit where I had to maneuver around parked cars and such, but even that was really not a big deal. I was a little leery of turning left across with traffic though, I just did the straight-across-and-then-across-again thing, but no big deal. It's not like I was in a race; I just tooled along at a pleasant pace and had a nice ride, and took in  some of the sights of Shanghai from my new point of view, neither pedestrian nor passenger.  For example, I got to see these girls just leaving from the high school around the corner: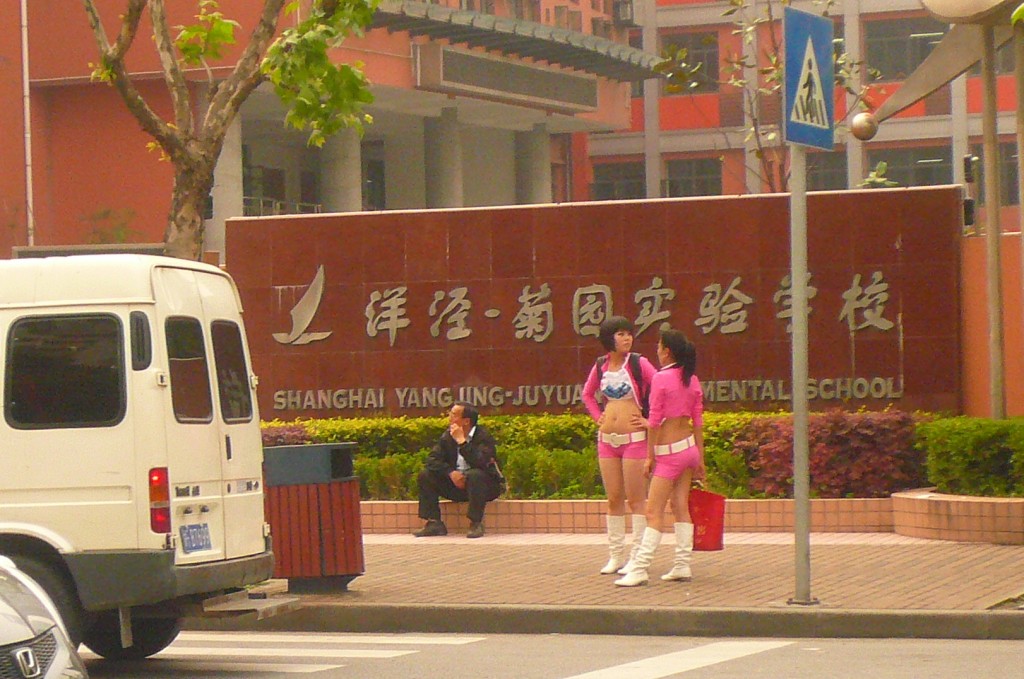 At first I was wondering, what the heck is up with that guy sitting there that he is looking off the other way? And then that white van moved: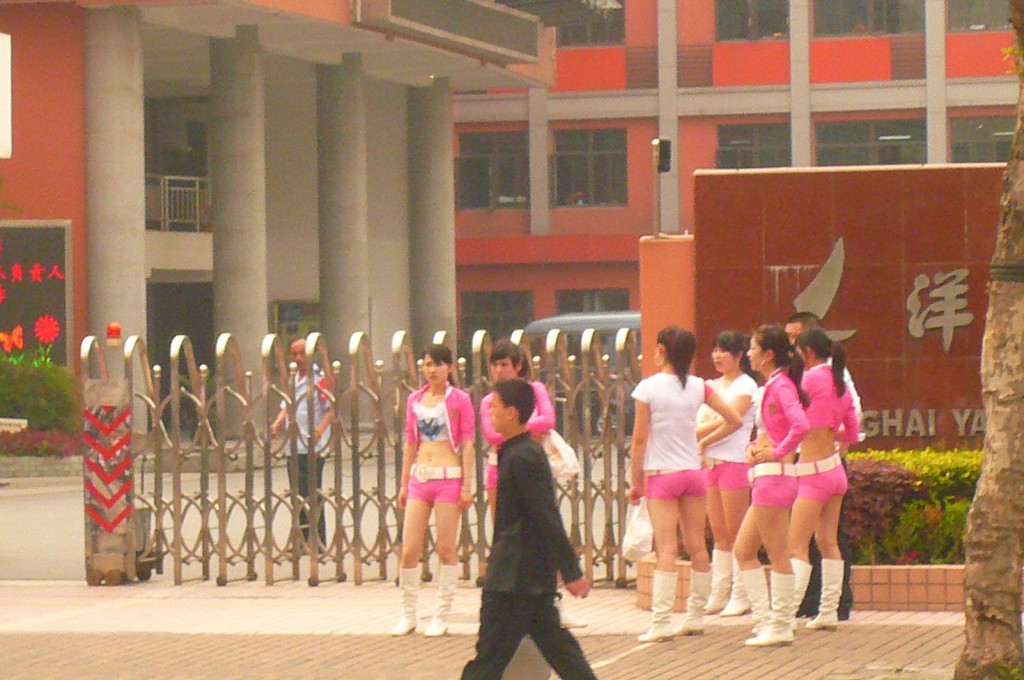 In the interest of this being a family-friendly blog and all that sort of thing, I am going to simply say that I am sure there is a perfectly reasonable and completely innocent explanation for this… whatever this is. Possibly.
And now the bad news:
The reason I was given this bicycle is that my good friend Zena left Shanghai today, because her husband is taking up a new post in Singapore. It's the right move for them as a family, but I will miss her so very much. She moved to SH only shortly before I did, so we've been through a fair amount of the 'getting to grips with this place' process together, and it just won't be the same without her. Her older son is the same age as M (both had their birthdays this past week) and they too will miss each others company. Being 4, however, they will probably rebound more quickly!
This is easily the hardest part of expat life: people come and go from your life so easily. You make friends quickly, and meet such a range of diverse people, but as most people are here tied to a job either as an employee or a spouse of one, life changes at the whim of the company or the termination of a contract. Of course, in this day and age of email and Facebook and, erm, blogging, and all that, staying in touch is easier than it has ever been. At the end of the day, though, it's just not the same as hanging out chatting and working your way through a nice bottle of wine (or, you know, two) together, and I'm really, really going to miss my wonderful friend. Singapore is lucky to be getting her.
(Fortunately we have several other friends who are also excellent at drinking wine.)