OK so, I mentioned in my last post that M had acquired a goldfish last week, when we visited the Shanghai Natural Wild Insect Kingdom. It's a fun place to visit, but I would say 'Kingdom' might be overstating its grandeur, a bit. Really it's a bit ridiculous that we have not been until now, as it's barely a 20 minute walk from our place, but I've been sort of keeping in my back pocket to use on a rainy day, when I really needed to get out of the house with M before she drove me nuts.
In addition to perhaps not meriting the title of 'kingdom', the name is also a bit 'off' in the fact that it has an awful lot more than insects. I mean definitely no question, there are lots of bugs – M (who has seen the Pixar film "A Bug's Life" approximately 328 times) spent much of the time pointing to various insects and announcing "This one is in Bug's Life! This one is not in Bug's Life. This one is in Bug's Life! And this one is in Bug's Life! But not this one." There are also many varieties of spiders, tortoises, turtles, frogs, lizards, snakes, caimans, and some marmoset monkeys. So, you know, pretty fun, if you like that kind of thing, which indeed we do.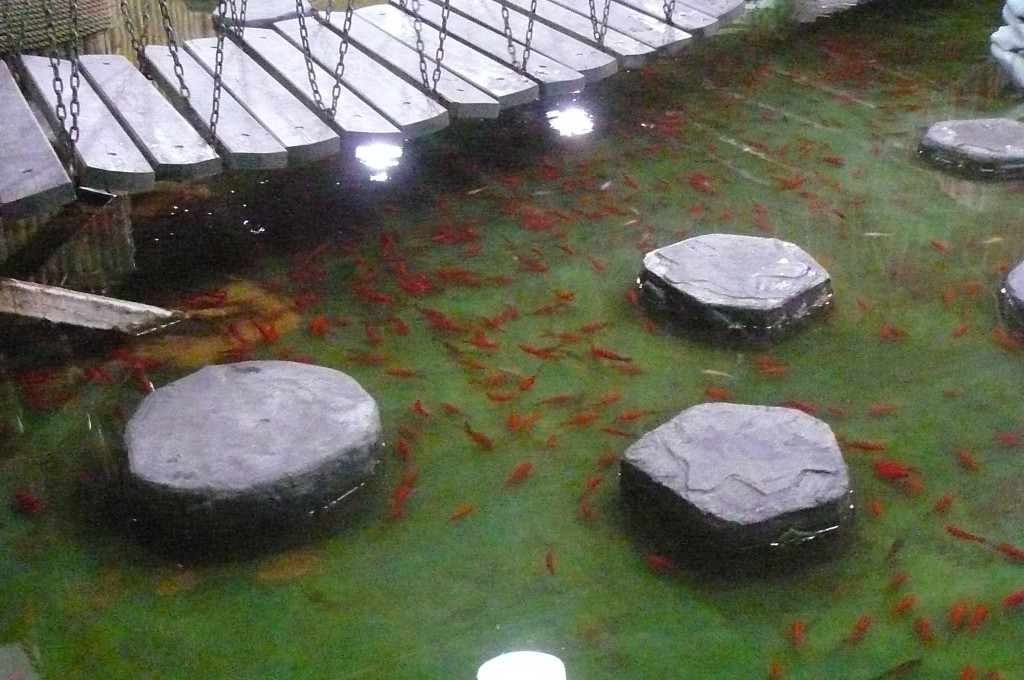 Downstairs near the gift shop, there's a shallow pond with 'stepping stones' in it, full of goldfish. You pay 10RMB and you get a small pail and a ridiculously small net, and you have a half hour to try to catch fish. You can keep as many as you catch. I figured what the heck, we'll never catch anything – the fish would all race away the second we got within a meter of them, and because there was hardly anyone else there, they had plenty of 'safe' spots to swim off to. So I gave M the advance "OK, we'll try our best, but the fish are very fast and slippery, so we might not be able to get one" warning (in anticipation of the  subsequent "but I want a f-i-i-i-i-i-ish!!!" wailing that I felt would be nearly inevitable) and off we went with our little bucket.
And then a few minutes later, suddenly, somehow, there was a fish in our bucket.
Which meant, we now have a fish.
M is quite certain our fish is a girl, and we have named her Penelope. She's still living in that plastic box, which I know isn't ideal, but we are moving next week (more on that another time) and we'll get her a new big lovely bowl with pretty rocks and a nice aquatic plant or two. So, it will be new homes for everybody