O glorious spring! Lovely day today, and quite refreshing after yesterday's gritty gray dust storm sky. So like about million other people, we decided to pack a picnic lunch and head over to Century Park, which is the biggest park in Shanghai, and not terribly far away from us. G had never been, and M and I not for a while, and so off we went.
In one part of the park I'd never been to before, there is a bonsai garden. After having lunch we decided to go check that out, as G has a bit of a 'thing' for bonsais, and I reckon they are pretty cool, so we took a stroll over there. At first when I went in I was a bit disappointed, because I hadn't thought about the fact that all of the trees that are not varieties of evergreens would not have any leaves, so when we first went in it just looked like a bunch of naked twigs everywhere.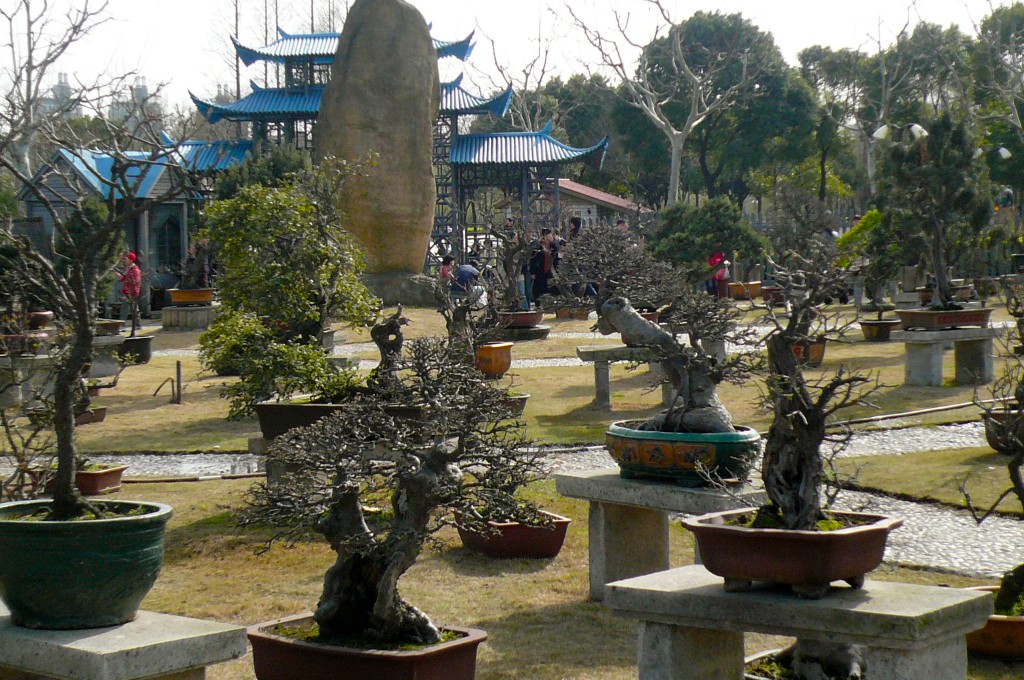 But then G pointed out that actually this is a really good time to see them, because with the leaves you can get a better sense of their sculptural qualities, and that the 'skeletal' aspect enables you to really look at the way they have been trained and crafted without any leaves cluttering up the view. And, because it is now spring, we can go back in, say, a 6 week's time and there will have been masses of leaf regrowth and it will be like seeing a whole new, different thing. And of course he is very smart about this sort of thing, and as I looked around I realised he was right, they were each completely unique and totally fascinating just as they were. Couldn't really capture in snapshots how fantastic most of them were, but here are a few decent shots I managed to get: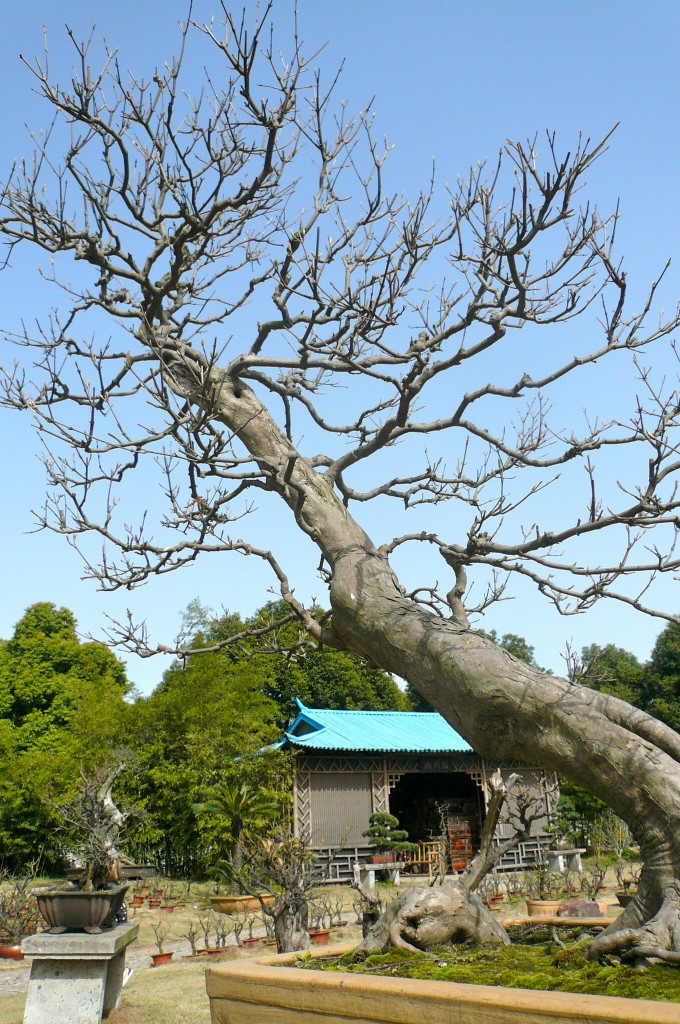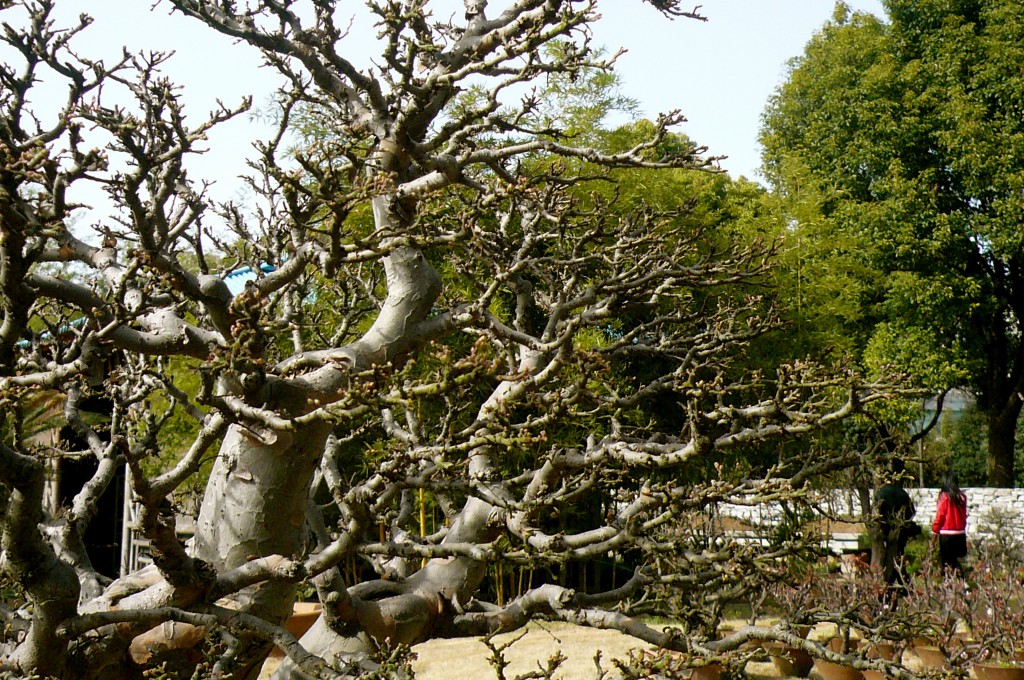 This next one I liked because to me it looks like a lady in a long dress dancing. Can you see her?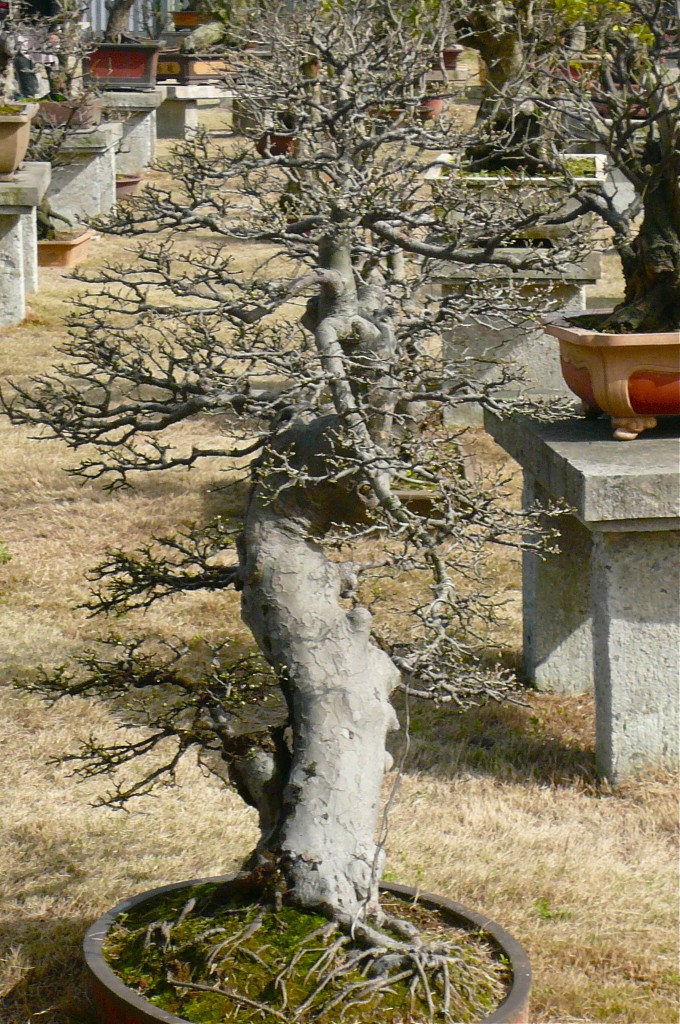 I called M over to show her this next one, because I thought it looked like a seal or a sea lion, but when she came running over she said "It's like Bambi when he got growed up" (which probably has something to do with the fact that she has watched Bambi 3 times in the past 2 days, but yeah OK, I can see antlers, fair enough.)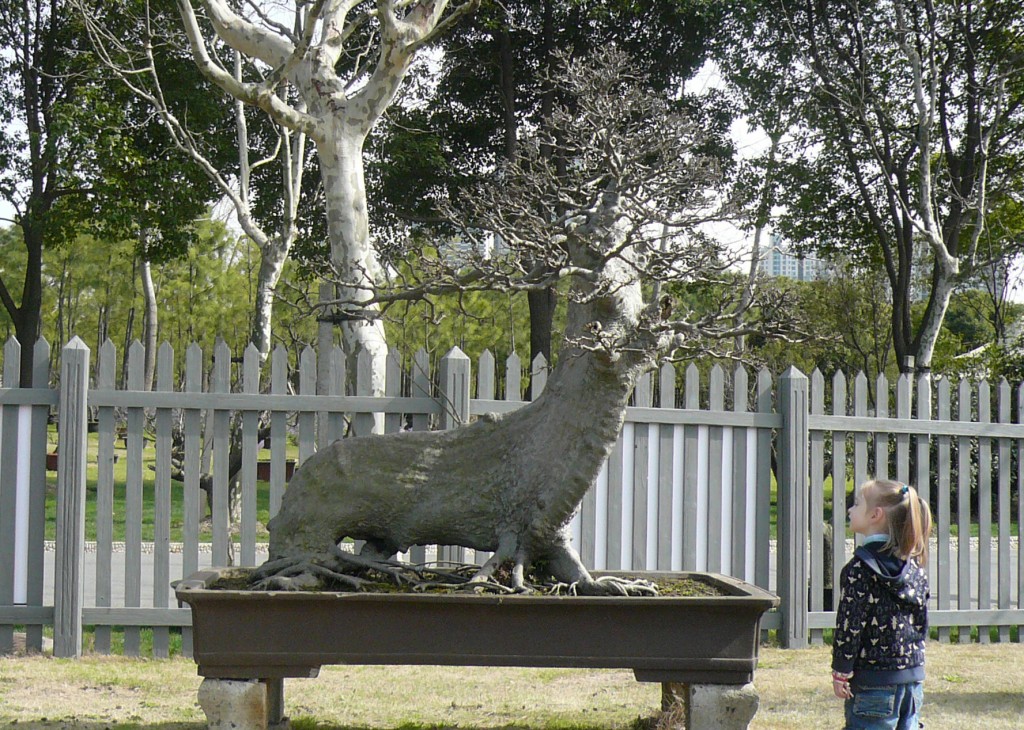 After the bonsais we went over to this other  Hong Kong Garden area nearby
where there was a little pond, and we could see there were kids dipping bottles into the scummy water so we went to see what they were doing. Turns out the water was swarming with tiny tadpoles!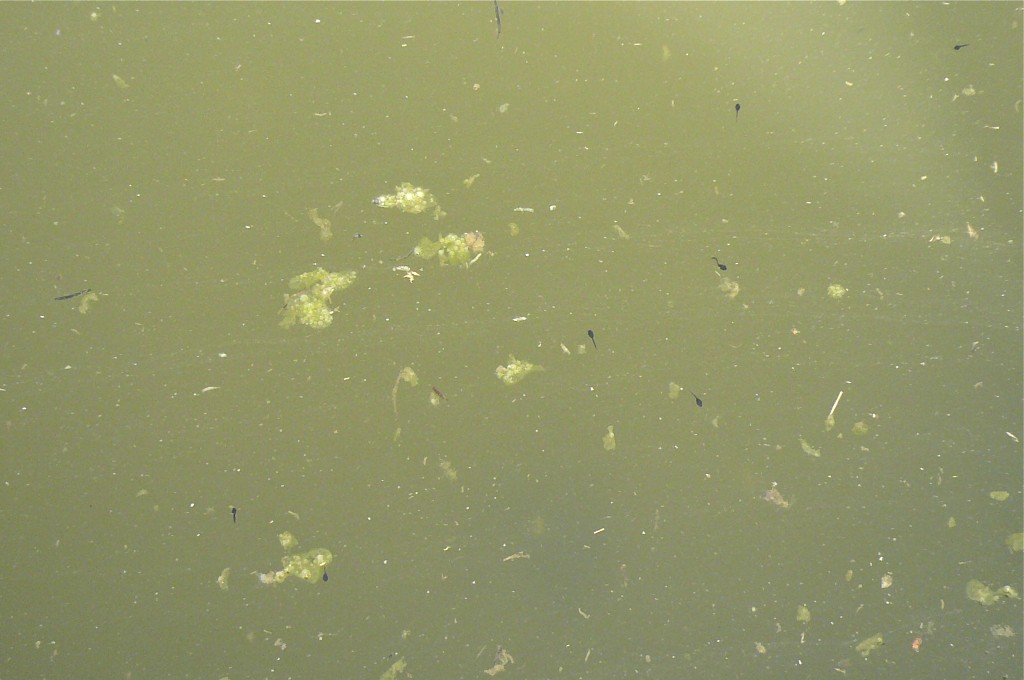 So of course M was all like "I want to catch tadpoles!" and I thought well, why not, we can take a few home and watch them turn into little froggies and that will be all super duper educational-like, what the heck. I bought a bottle of green jasmine tea (mmmMMMmmm) and shared it with G while M pranced around us going "Are you done yet? Did you drink it all yet? Are you done? Can I have the bottle now? Is it empty yet? Are you still drinking it? Is it empty now? Are you done yet? Can I have it?"
So we caught a bunch, I would guess we have about ten, some are wee tiny specks and two or three are good solid chunky little things, so hopefully some of them will make it to froghood. We've also recently acquired a goldfish, from last week's trip to the Insect Zoo (yes I know, a fish is not an insect; don't tell me, tell the people at the insect zoo) so we'll do our best to keep them all alive and well fed and happy and all of that.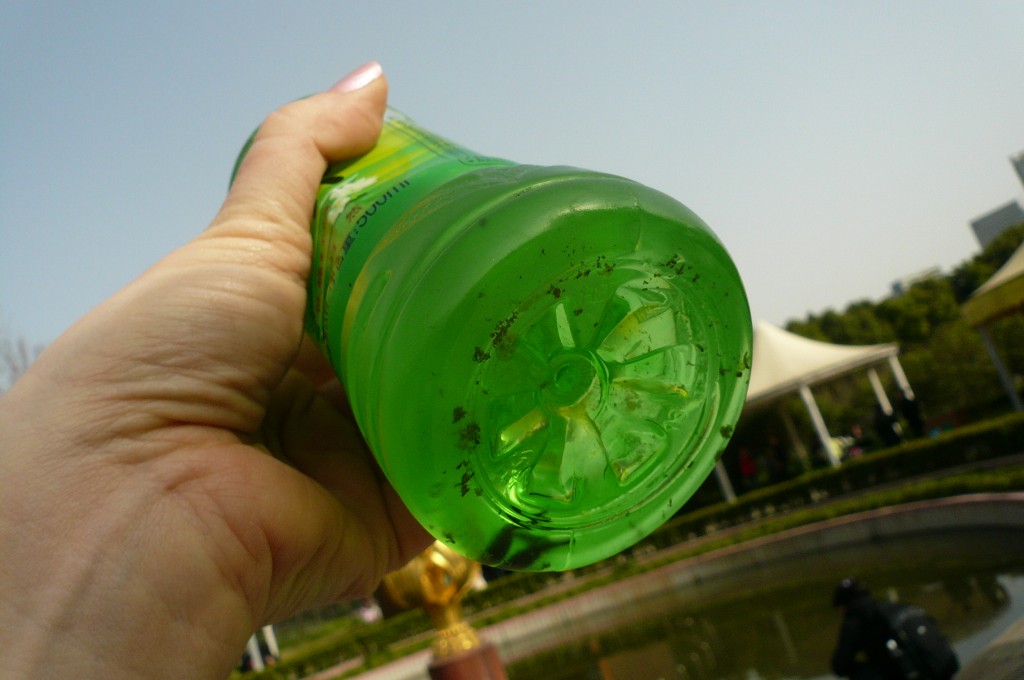 After that we rented this funny bike-cab thing and rode around the park trying not to run people over, which was hard at times, because it was very crowded, and also, because my husband could not quite get that we were not in fact competing in the Tour de France, it was not a race, and therefore did not need to start pedaling at top speed the second a clear path of more than 2 meters opened up ahead of us. It was good fun, M got to sit in the kiddie seat at the front and of course as The Most Adorable Blond Foreign Kid In All Of Shanghai, she got masses of attention as we rolled down the road like she was the bloomin' Pope in the Popemobile. (Although I guess he's rather not enjoying the sort of attention he is getting presently, but anywho…)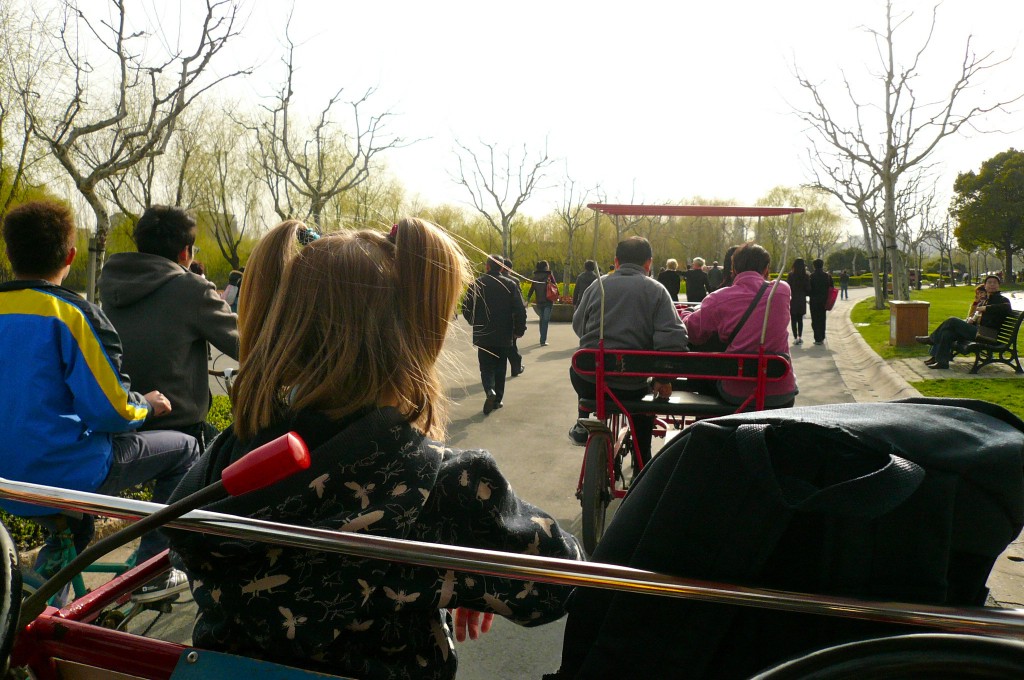 As we were pedaling around the park, we saw a lot of this: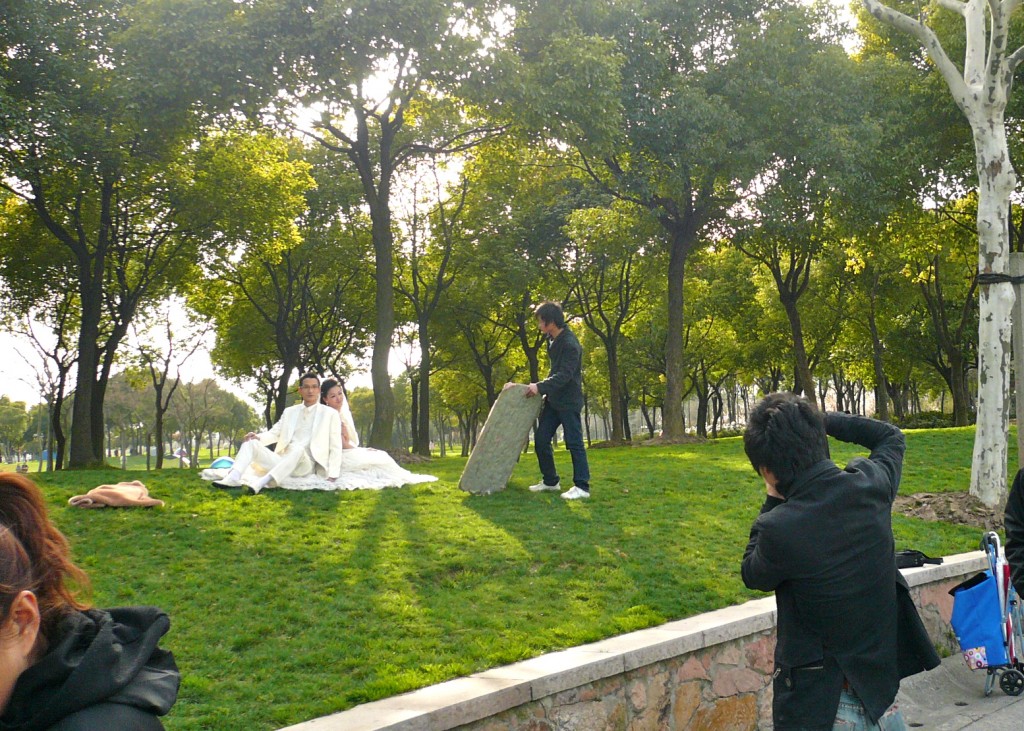 Couples everywhere getting photos done for their wedding album. Now, the Chinese wedding album is a quite a thing. It's a really big deal. I mean OK, for most people, their wedding album is a big deal, I get that. But here it's a REALLY big deal. Usually it does not have pictures of the actual ceremony or reception in it; it's really just an album of the bride and the groom, taken in various locations, in various outfits, in various poses etc etc. Sometimes they take ages to get done, because you might want a 'seasons' kind of thing where you have photos in the spring, the summer, the autumn… ok you get the idea. Often they are done well after the wedding (but generally within the first year or two.) But you can pretty much expect that on any given 'good weather' day, if you go to any park in Shanghai, you will see couples, or sometimes just brides, posing in picturesque spots. Sometimes there will be a queue of brides all waiting for that gazebo, that bench by the lake, that flowering tree, etc. Since they wear several different outfits for the photos, they don't buy all the different dresses – the photographer supplies them, so they have to fit a range of sizes, and if you see the girls from behind often the dress is pinned in the back when it is too big, or left hanging open when it is too small. If it's a bit chilly, you will see them wearing their coats until the last second, when the photographer's assistant rushes over and snatches it away just before the photographer starts shooting. It's not my thing – heck I haven't even managed in ten years to get our ordinary wedding photos into an off-the-rack album – but hey, mazel tov – may all the lovely couples we saw today live a long and happy life together.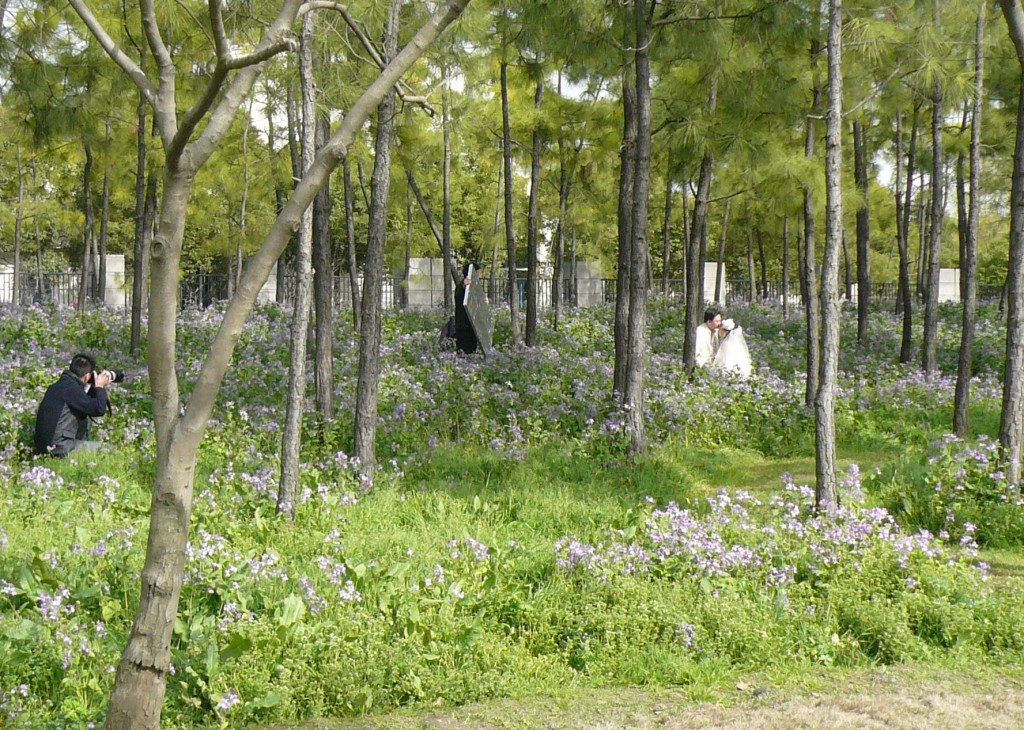 One Response to "Park life"