My oh my. Sorry for the HUGE gap in posts – we've generally been having a spell of rather good weather here FINALLY FOR A CHANGE so I've been trying to do stuff like, oh, get out and enjoy it and live life away from the computer screen and that sort of thing. But in all of this getting out and about I've seen and done lots of fun things that are worth writing about so hey ho, catch-22, what can you do.
So anyway, last Saturday it was a gorgeous day, so we decided to go to Fuxing Park. Many people out enjoying the lovely day, so there was lots of activity. There were lots of people singing, in various small groups about the place, which was in some cases quite nice to hear a few notes wafting over on a breeze, but in other cases just really loud and annoying, but there you go, you gotta take the rough with the smooth, and it was all part of the scene.
M had a blast over in the kiddie amusement park section – she spent forever in the bouncy castle and made some new friends, then we all went on the bumper cars (or 'bumping cars', as she prefers to call them) and she alternately screamed in terror to be let out and  laughed her head off every time we rammed somebody. I spotted this perplexing image decorating one of those mini-coaster type rides: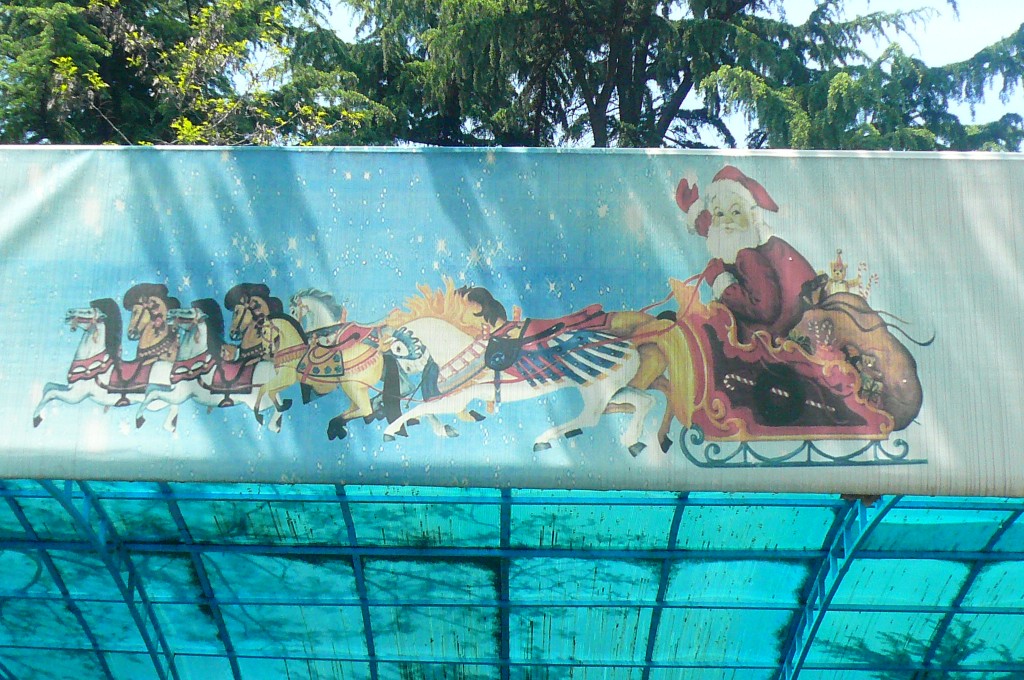 Seriously, how does that happen? How does Santa end up with carousel horses? I can see if it was a) on a carousel, and/or b) Christmas time, but just as a random graphic, what's up with that?
But hey, nothing here has to make sense or be in context or anything really. For example, can anyone explain these?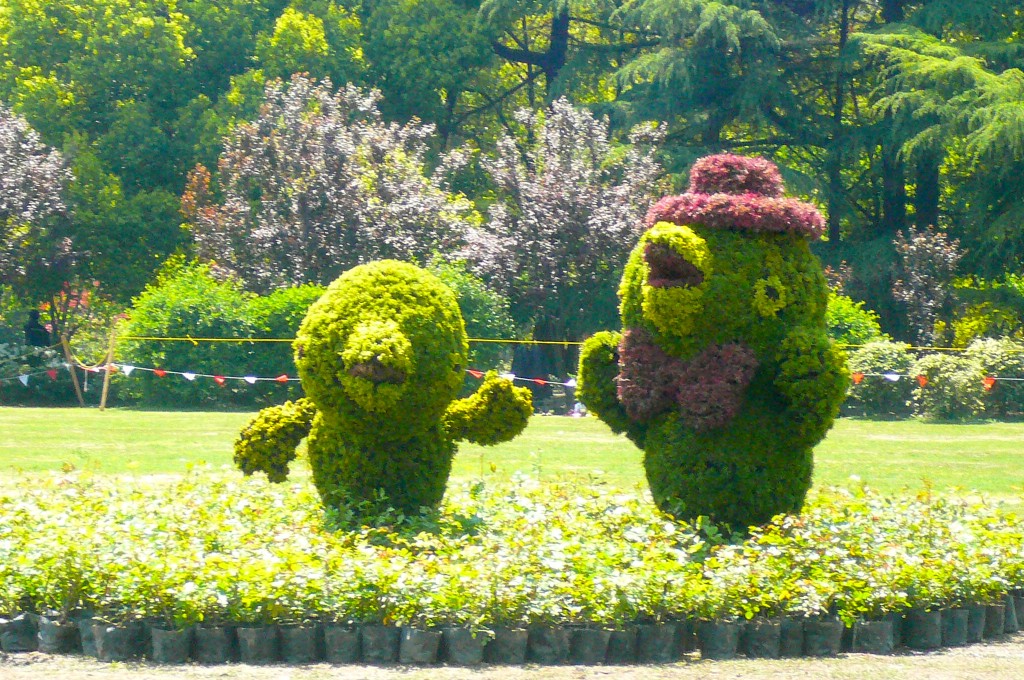 There was also some kind of crazy dance drama thing going on, with people in costumes (traditional dress?) enacting some sort of… something:
A common sight in many parks (as well as some local housing complexes) are groups of people gathering to read the newspapers posted on the board, and maybe discuss the events of the day with their neighbors: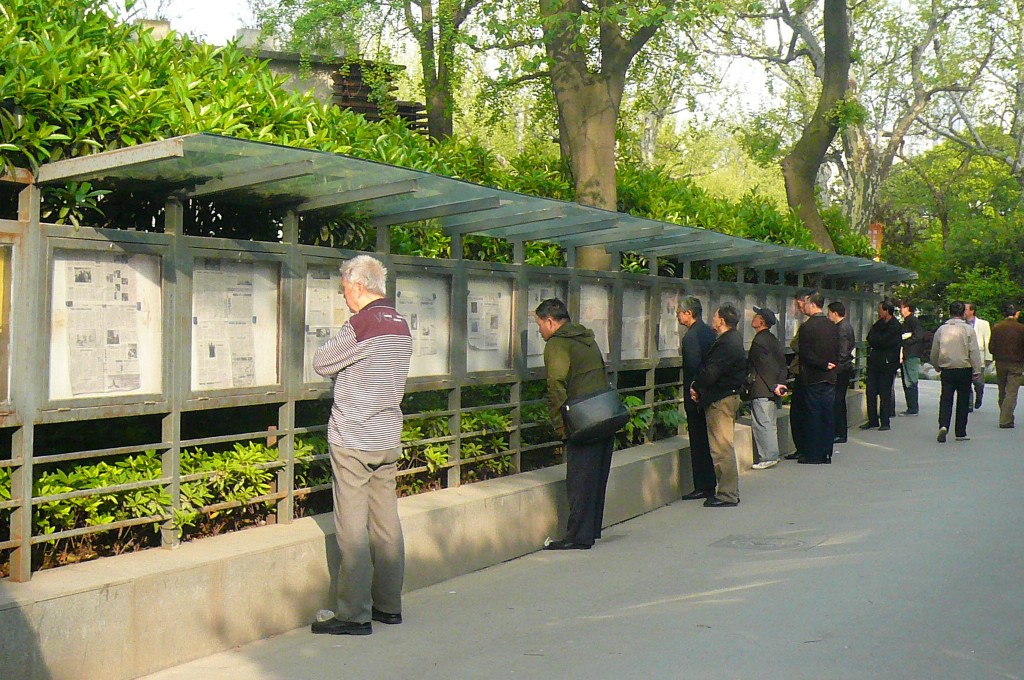 After we left the park we took a little walk down Fuxing Lu and visited a few shops. En route we spotted this information poster in a bus stop: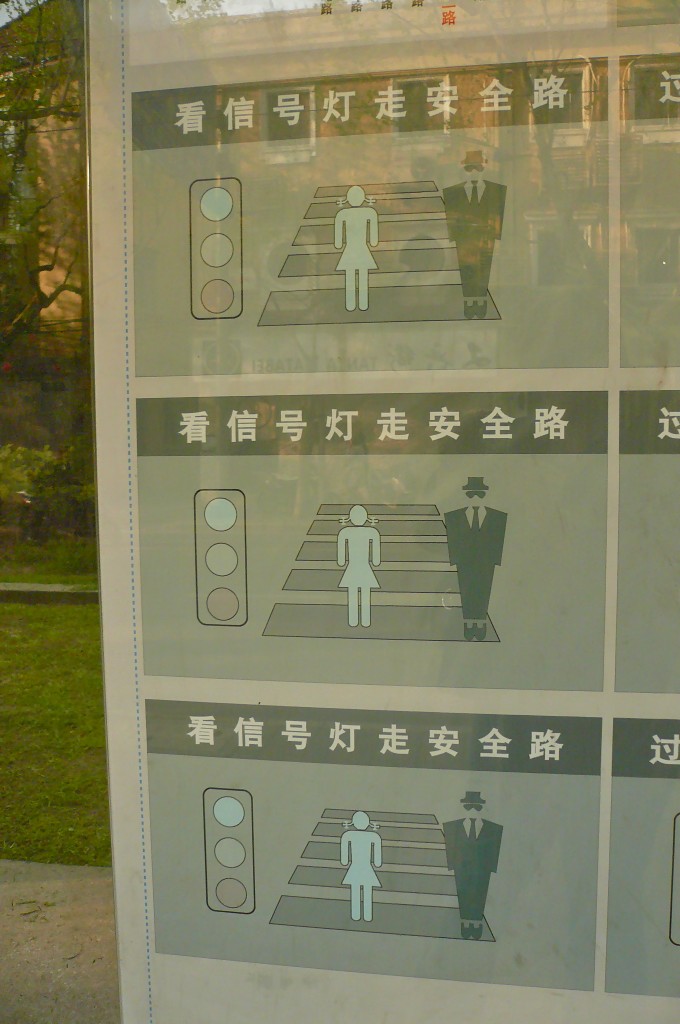 I am certain this would make more sense to me if I could read Chinese, as for the time being I have to assume it says something to the effect that this crossing is for little girls and members of ska bands (or possibly the Blues Brothers, or the cast of Reservoir Dogs) only.