Archive for February, 2010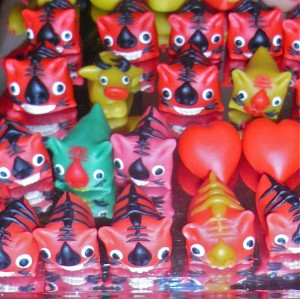 Happy Year of the Tiger, everyone!
As you no doubt know, last night was Chinese New Year's Eve, the start of the New Year holiday (also called the Spring Festival). Our first one here in Shanghai, and quite exciting it is! The past week or so has seen the city 'getting ready' with decorations – well, actually they started  before Christmas, and in many cases just never took those decorations down, it being rather handy that red and gold is a theme that serves both holidays quite well… But anyway, more and more decorations have been going up. In all of the doorways of all of the buildings there are lanterns, and usually little mandarin bushes as well with little red envelopes ("hongbao") tied to the branches. In the shops in the mall, a lot of the mannequins all have tiger heads , which is kind of funny. I'll try to get photos of all of this stuff as well as fun goings-on about town over the next week, but today is quite rainy and cold and dismal, and I've got a bit of a hangover, so it's going to have to wait.
Erm, about that hangover… we celebrated the New Year over at G's colleague D's place with him, his lovely wife N, and several other couples. They live across town, so we spent the night, as they kindly offered the use of their guest room, and we had some concerns as to how we would get home with a sleeping 3 year old. (Who, as it turned out, did not actually fall asleep until nearly 1 am – she is a party girl.) D & N's apartment is on the 30th floor, so we had an amazing view! The fireworks were incredible. They were EVERYWHERE, going off all evening long until… well, I don't know that they've stopped yet, actually. The biggest and most fantastic time of all though was around midnight, starting about about a quarter to and then going on and on and on after.
Here's a bit of video I took of the ones that were being set off just across the street:  Oooh pretty
But to really appreciate the scope, have a look at this clip where I scanned around the skyline: holy moley
It was unbelievable, the sound, the smell, just beyond words really. The air got thicker and thicker with gunpowder smoke, by the time we went to bed you couldn't even see down to the street level.
Anyway, as I said I'll try to get some cool pics of CNY stuff from around town over the next few days – but today it's just a good day to stay in with a big mug of tea!
So clearly I am crap at documenting my 'everyday life' as I said I would try to do. But honestly my 'everyday life' has been incredibly boring lately. It's cold, I don't go out much, and I was sick for a bit which was tedious and not anything I felt like memorialising for posterity (slept most of the time anyway).
But I did think perhaps I might share with you all what we had for breakfast this morning: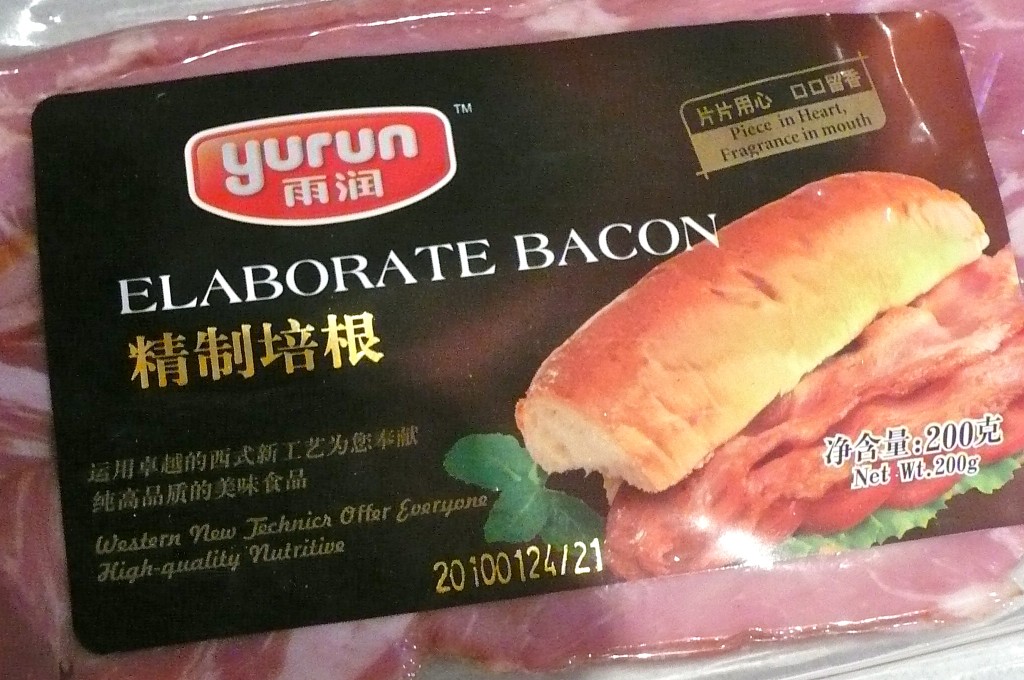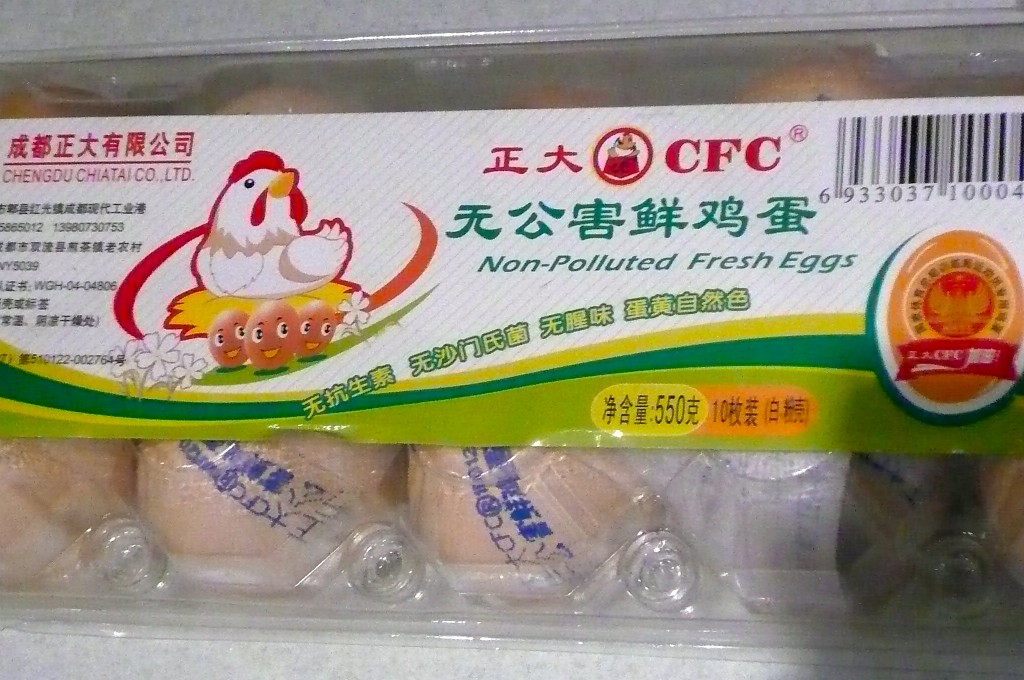 Yes that's right, what better way to start the weekend than with a nice plate of elaborate bacon and non-polluted eggs? (I do generally prefer non-polluted eggs, you know.) Don't ask me what made the bacon so 'elaborate'; I haven't been able to work it out. It tasted very nice but I can't see that it was particularly more complex than simple, ordinary bacon.
Anyway, today is Chinese New Year's Eve. We kicked off the holiday celebrations last night with some friends over at their place; they live in our housing complex and their little girl is M's age. Ordered some Indian food and drank some wine and had some good chatter. The girls ran around being princesses and playing Barbies and picking up inappropriate dance moves from a Lady Gaga video. (Yes, terribly poor, un-feminist role model parenting, I know I know.)
Tonight we're off to some other friends' new apartment on the 30th floor, a combined housewarming/CNY party. Will try to get some photos of fireworks from on high; there should be many many many thousands of them tonight. M and I made cookies to bring – now I know they look an awful lot like Christmas cookies, but you have to trust me, they are Chinese New Year cookies, mmmkay? and those ones that look like teddy bears, just use your imagination a bit and I think you will clearly see that they are in fact, tigers!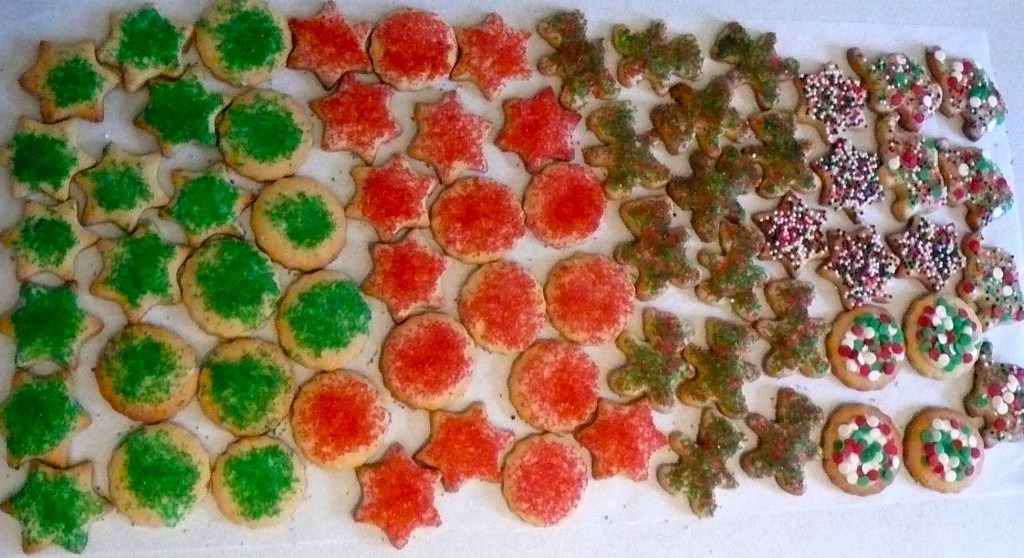 Xin nian kuai le, everybody!