Archive for December, 2009
Hello again peoples! Cannot believe Christmas is 3 days away, how did this happen? Anyway, sorry again for the long lag between posts, have still been working on my Chinese lessons and now that those have finished (for now, until after the holidays) I've been trying to get out into this crazy city and, you know, try to put them to use and stuff. So, here's another collection of pics I've taken whilst out and about, I think you'll be able to work out what links them – so, not quite as much commentary from me this time. Soon though I hope to post some photos pertaining to Christmas in Shanghai (and boy what a trip that is) where I'll have lots to say, believe me…
Ni hao y'all. Here's a random collection of pics, really the only thing that links them is that they're photos I've taken on impulse as I've been walking around. I see loads of interesting stuff all the time but of course the problem is, even though I carry a camera almost all the time, when I see something by the time I've gotten the camera out and turned it on and all of that bother, the moment is gone. Ah well, I keep trying. Here's what I've got, for now…

Kite seller on a market street near Yu Yuan having a little midday snooze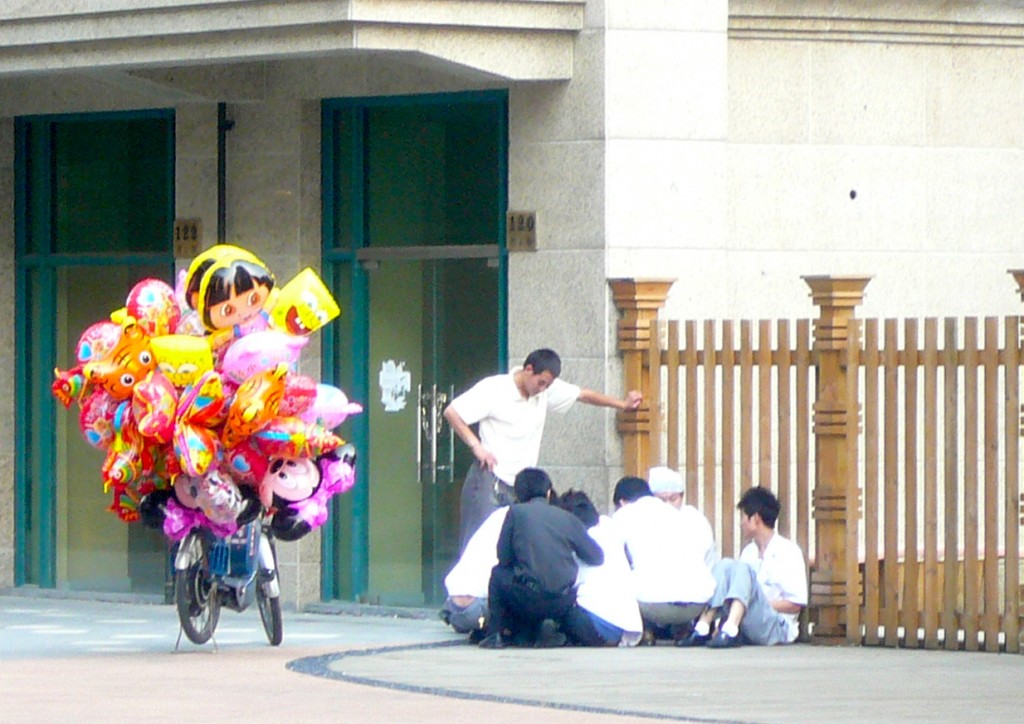 Impromptu card game. (Everywhere you go in this town, there will probably be a cluster of men playing cards.)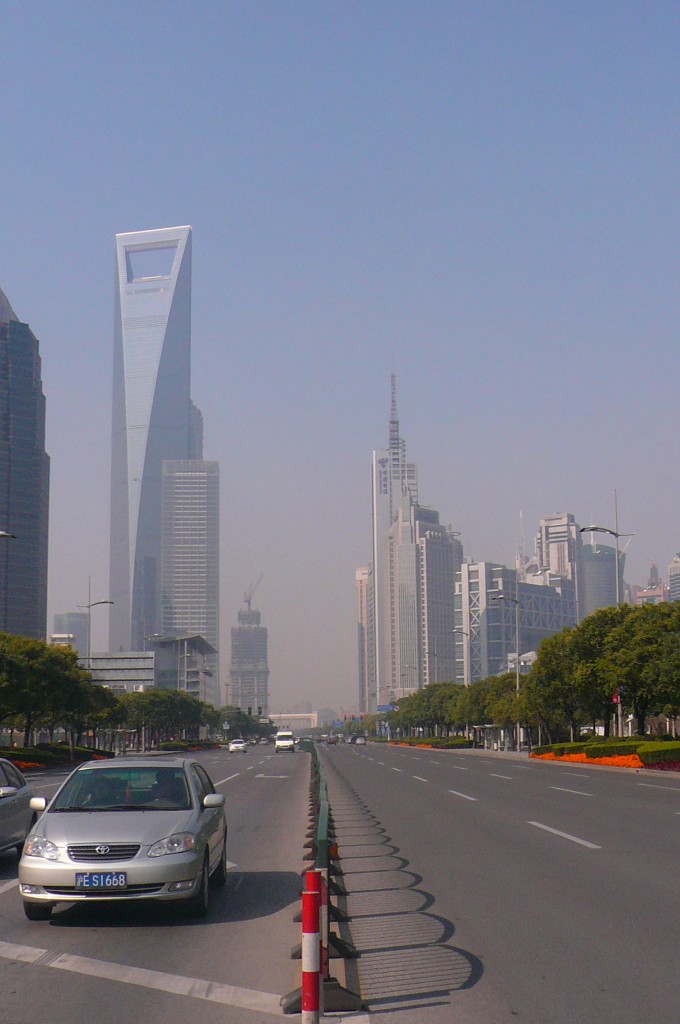 Random view up Shiji Dadao (Century Avenue). The tall building to the right of center with the phone mast up top is where G's office is – 29th floor.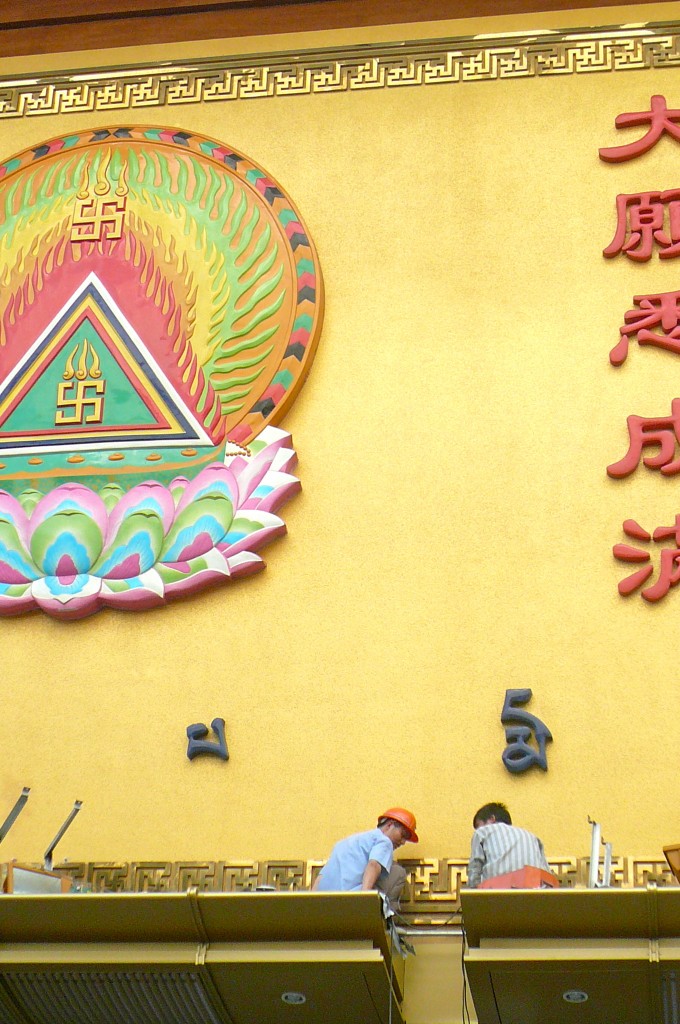 Workmen shiny-ing up the shiny bits at Jing 'An Temple. At least that's what I'm guessing they are doing. I don't really know, I just make stuff up as it suits me really.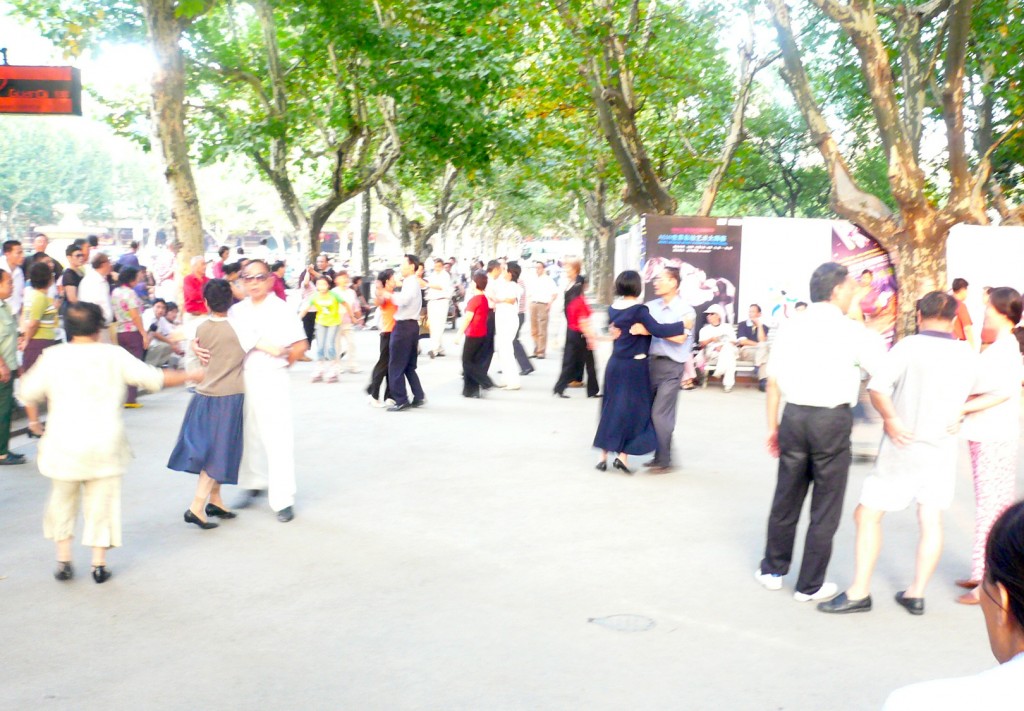 Practicing the cha-cha at Fuxing Park. (That's pronounced Foo-shing, FYI, not Fuck-sing. Don't say Fuck-sing, it's wrong and naughty.)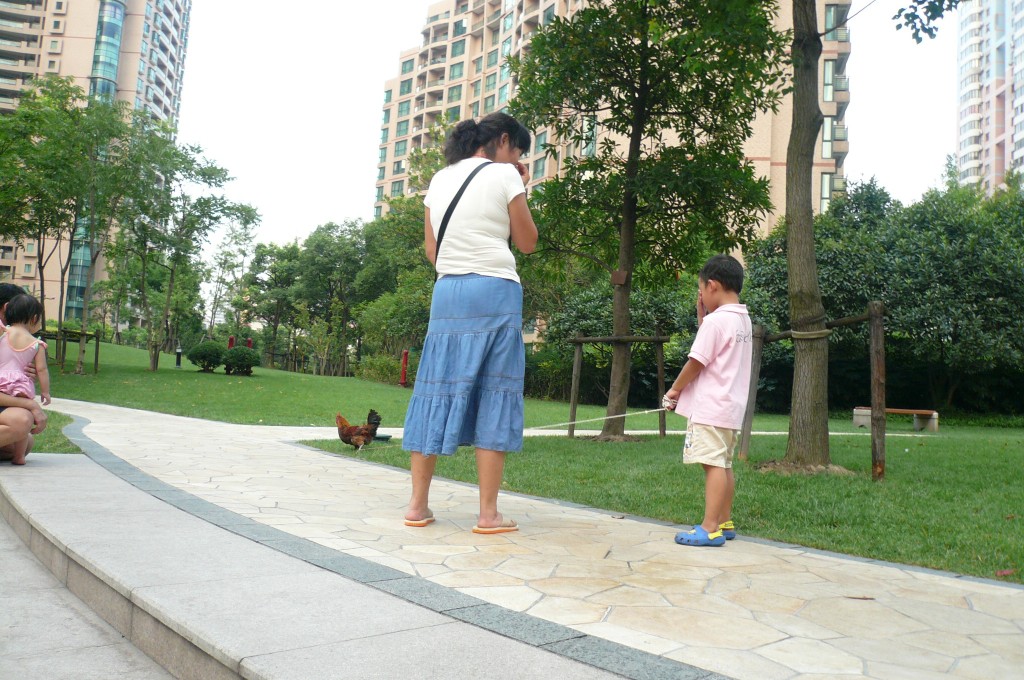 Just a boy takin' his chicken out for walk. As you do.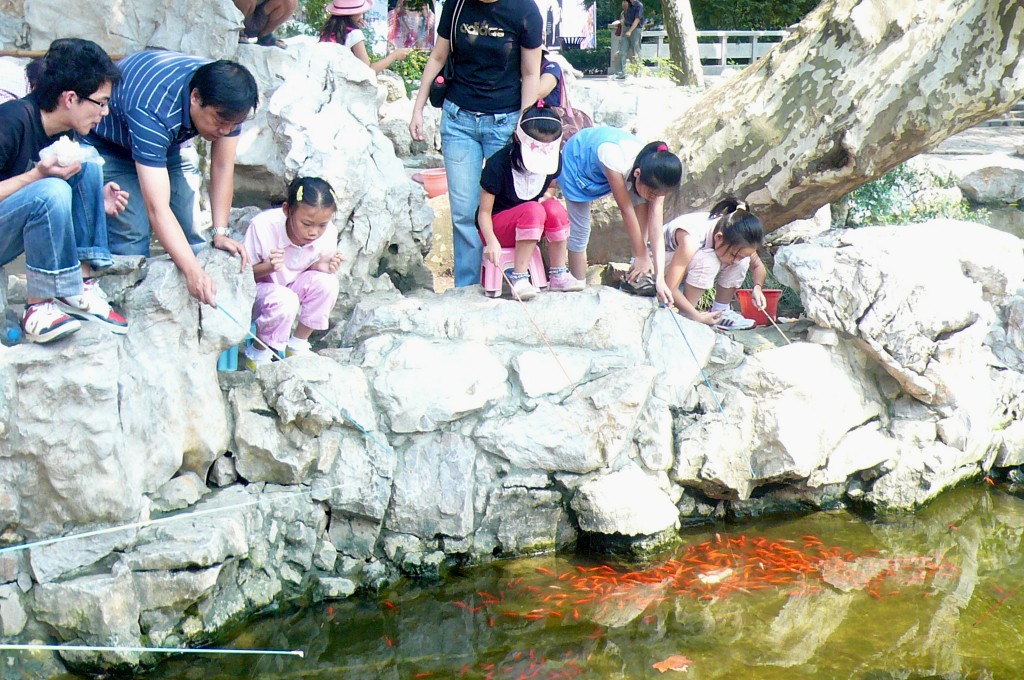 Fishin' for goldfish. You pay a few kuai, get a bucket a rod and some bait, and then you've got 10 minutes to catch what you can. You catch it, you keep it.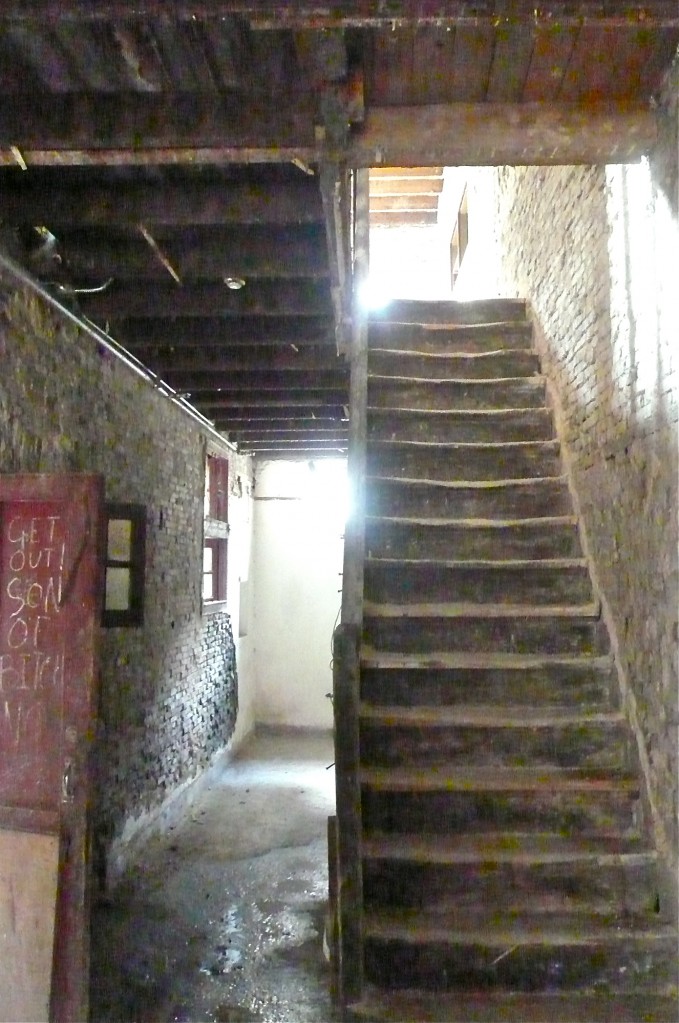 Gutted lane house near Taikang Lu. I call this photo, Get Out! Son of Bitch You.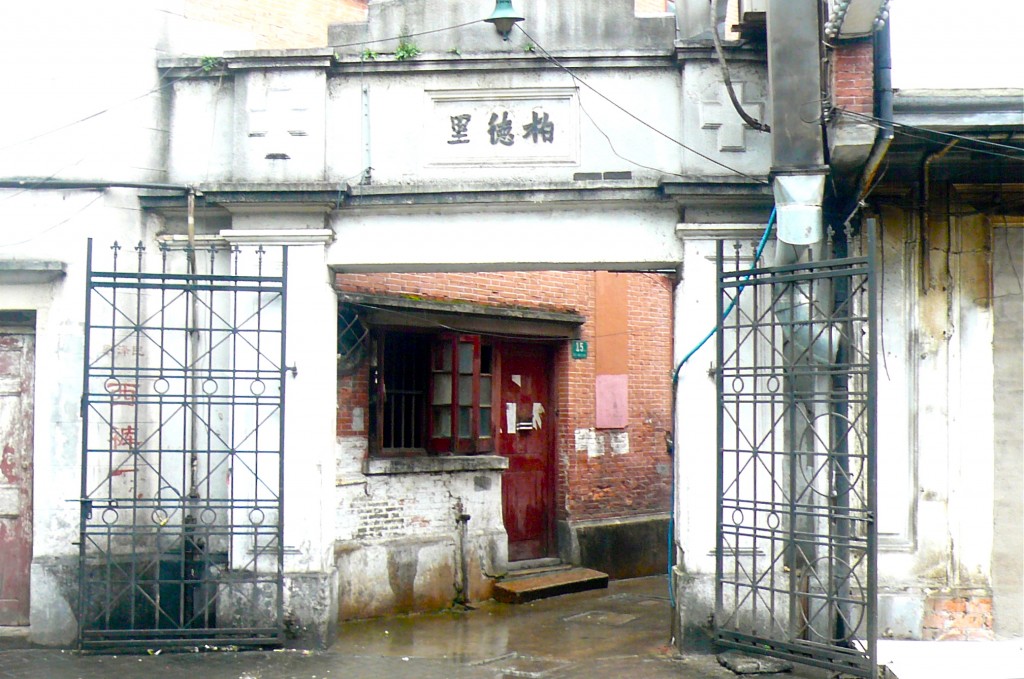 I don't have anything clever to say about this. It's just a picture of a gate.
Just a sort of typical street scene. Most regular small streets you walk down, it will all look kind of like this, one shopfront right after the other.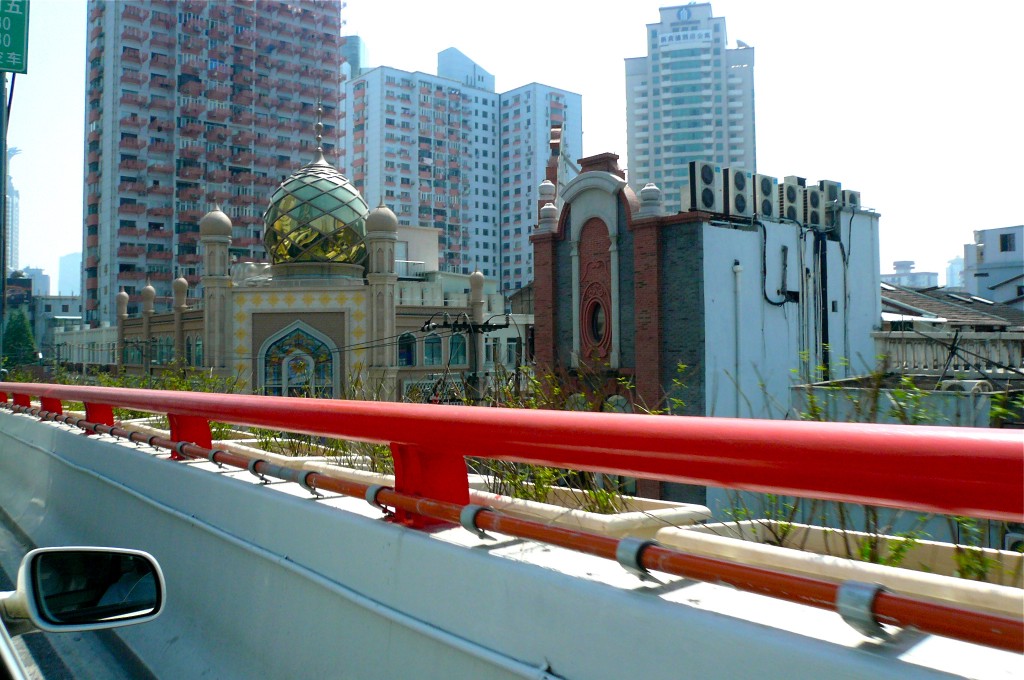 This was snapped out of the window of a taxi as we sat in traffic on the Yan'An highway, which is the main elevated highway running east-west across the center of the city. The building with the funny dome is a restaurant, but I don't really know anything else about it. It's just, you know, kind of cool in its kitschy idiosyncratic way. Like a lot of stuff here.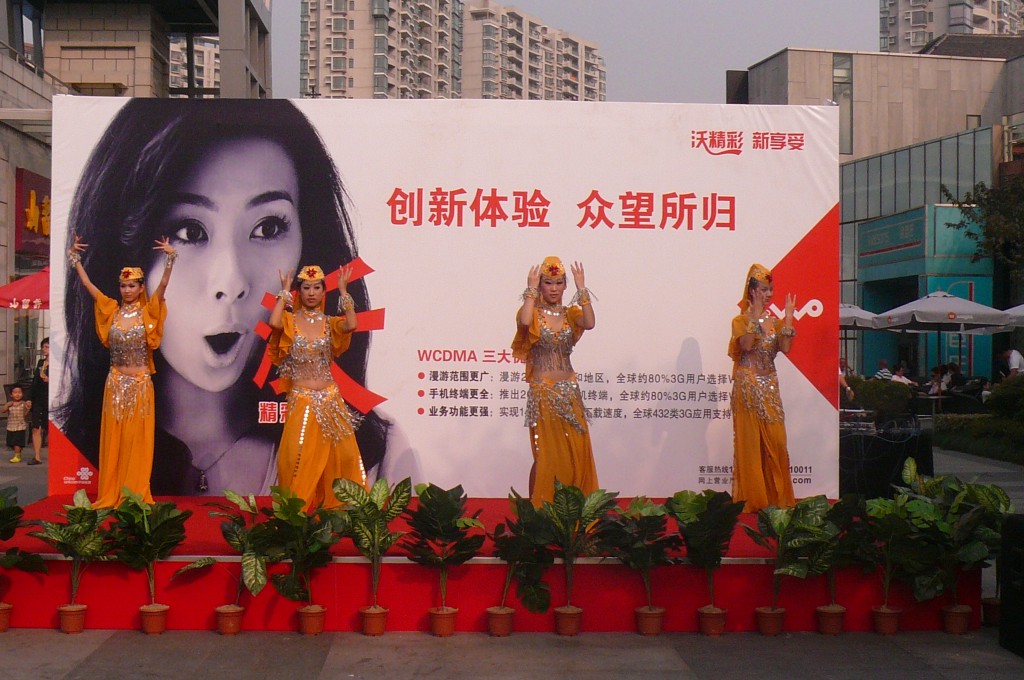 One day I went to the supermarket and in the little plaza out in front of it, there was this stage set up with some young ladies demonstrating traditional Indonesian dancing in front of a picture of a woman who was apparently even more surprised to see them there than I was. I have no idea why or what this is all about. I feel that way quite often here, actually.