Archive for November, 2009
So food here is like, way way way too involved and complicated and whatever whatever a topic for me to get all my thoughts down in one go, and of course there is no reason why I would have to. So, let's subtitle this entry "Random Pre-packaged Snack Foods and Treats I Have Been Enjoying Lately".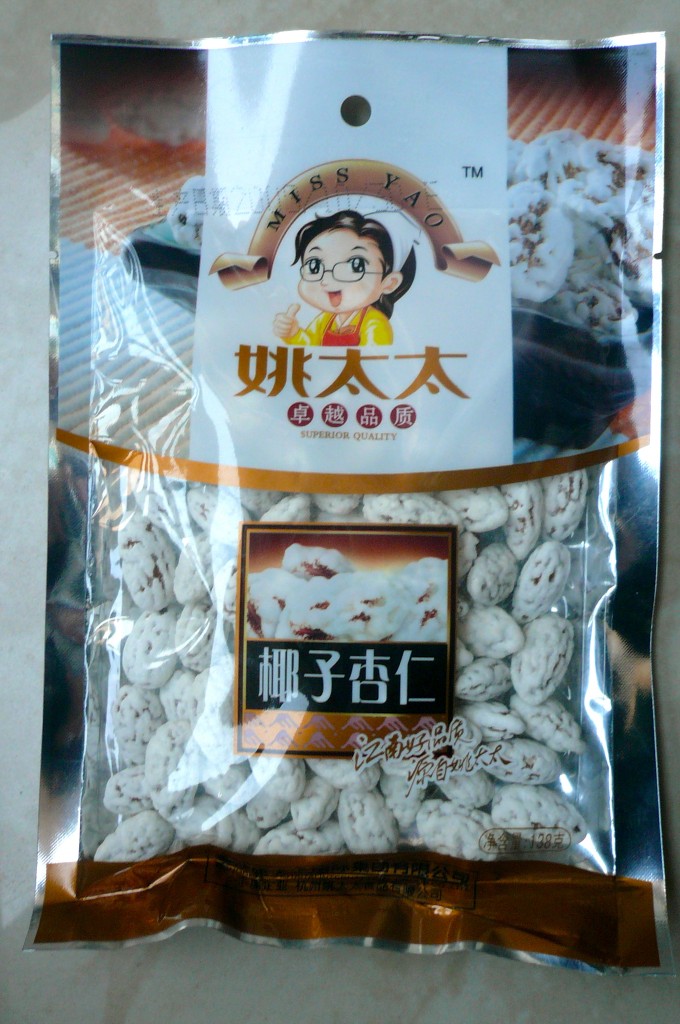 You can probably work out from looking at these that they are coated almonds. Coconut coated almonds, to be precise. And they are AWESOME. And I don't have to share them with G, because he does not like coconut!
Steamed bean buns! To be honest I don't eat these that often, I really prefer the cabbage or spicy pork variety. However, "bean bun" is much more fun to say. Go on, try it. Bean bun. Beanbunbeanbunbeanbun. See?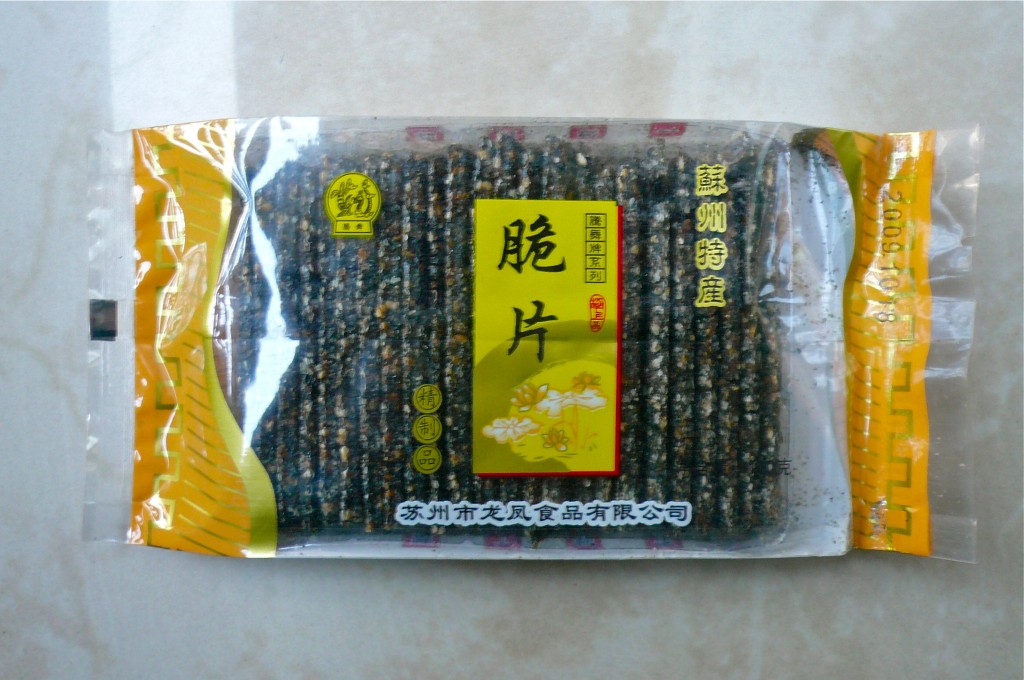 This, I have no idea what it's called. It's great though. It's like, sweet black sesame crunchy stuff. I remember as a kid getting these sesame honey candies, maybe you know what I mean? They're like that, except, um, black. And flat.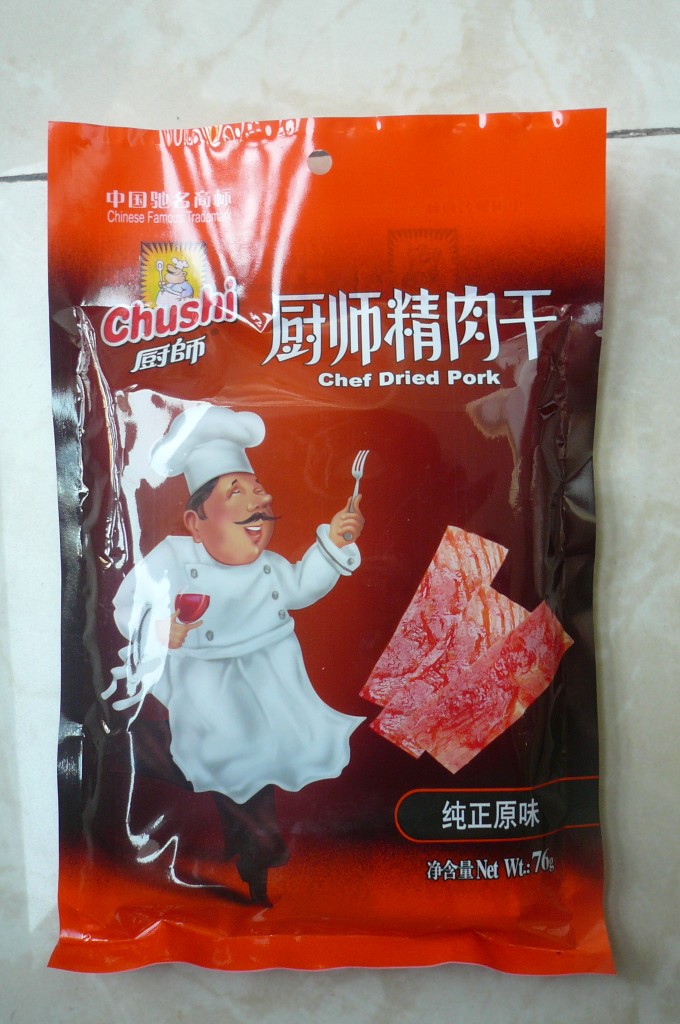 Pork jerky. Better than it looks in the picture on the package. (It would have to be, right? Because it looks like open wounds. Which is, for most people, really really not appealing.) I do love the drunk chef, though.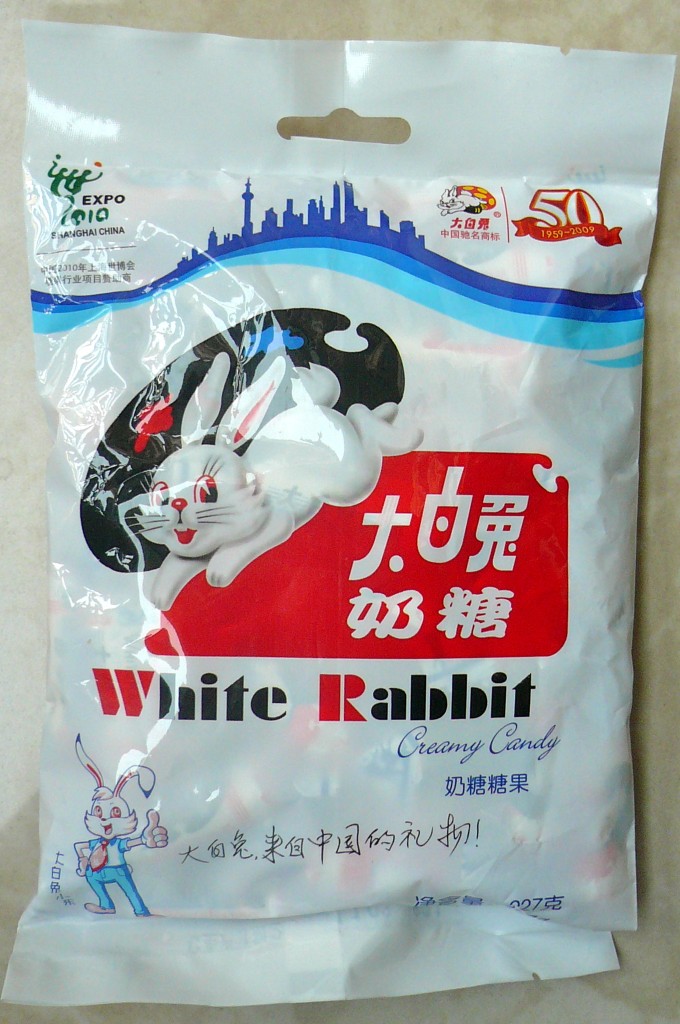 Ah, White Rabbit candies! This is a true Shanghai specialty. A creamy vanilla taffy-like candy, the kind that's likely to pull out all of your fillings.  Made with condensed milk and possibly melamine. Curiously addictive. I'm going to go get one RIGHT NOW.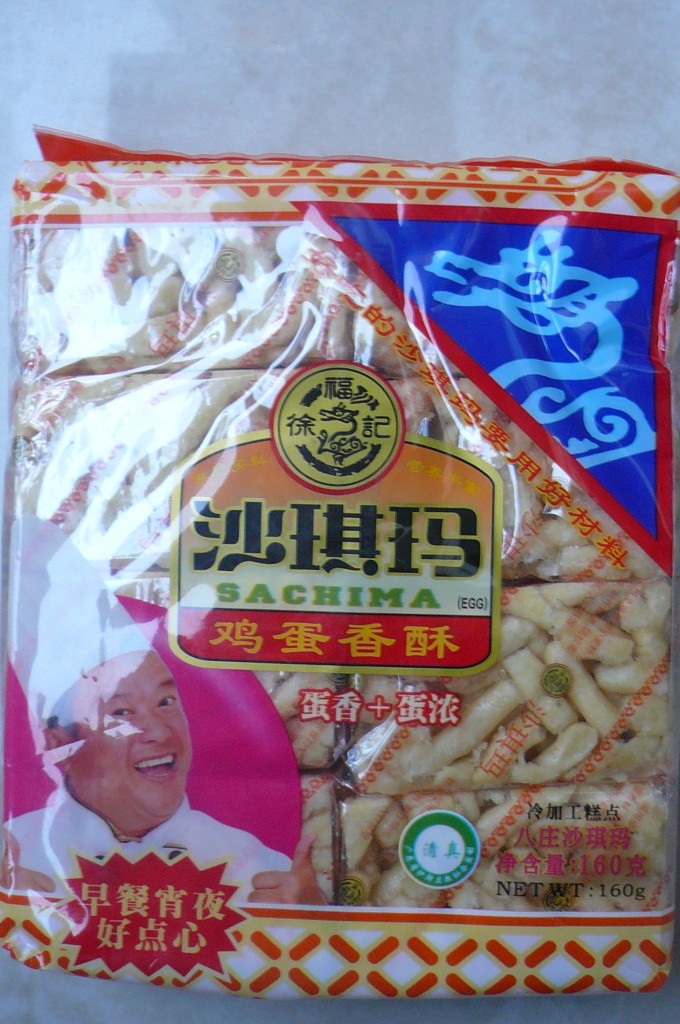 Sachima! If you live in a city with a Chinatown, you can probably find this in every food shop. It's a bit like a Rice Crispies treat, except made with puffed noodles instead of puffed rice. They're everywhere, but they vary according to brand. Some are really, really sweet, some are not so much; some are almost a bit soft, others are quite crunchy; some are made with big fat noodles, others with thinner ones. I like this brand (whatever the heck it is, Number One Smiley Cooking Man or what have you) a bit – it's less sticky and sweet than some others I've tried and nice & crunchy. Apparently there are regional variations as well, Fujian province people make them with sesame, Cantonese ones often have coconut, etc etc.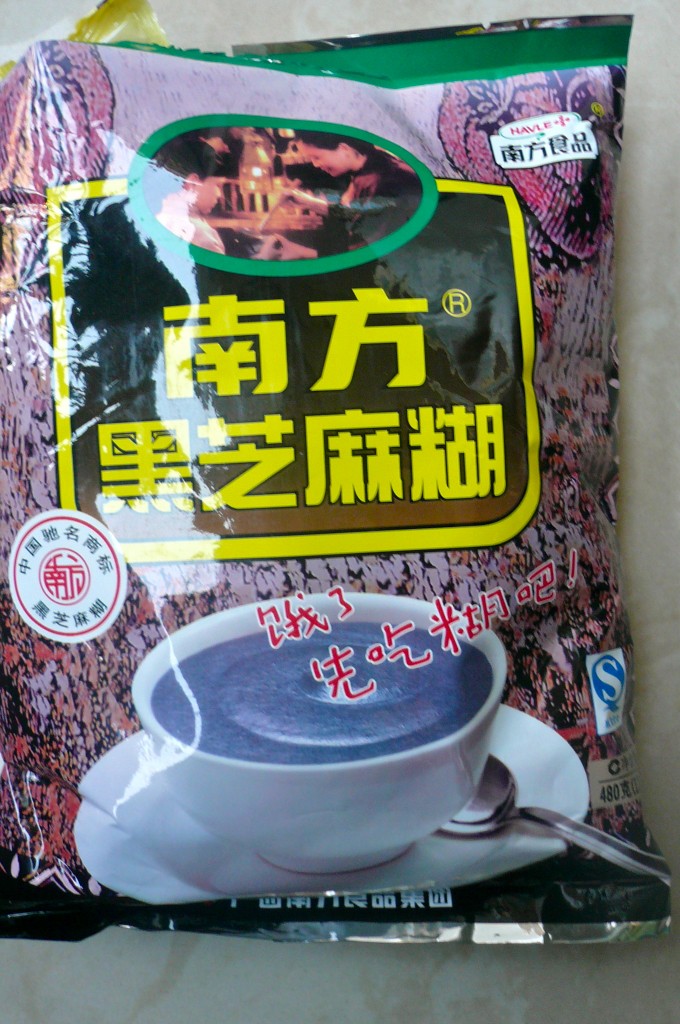 This is nice stuff on a cold day. It's like the local version of Swiss Miss, except it's made with black sesame and not chocolate. Comes in little packets, you put the powder in a mug, pour on some hot water and stir it up, and voila. Very delicious, if  slightly offputting in appearance. (Don't be fooled by the photo on the package. In the cup it's a much less attractive, sludgy gray color.) Tends to leave a thick pasty sediment in the bottom of the cup as well, which I know doesn't help sell it, but is actually quite tasty (like sweetened tahini, which I suppose is effectively what it is.)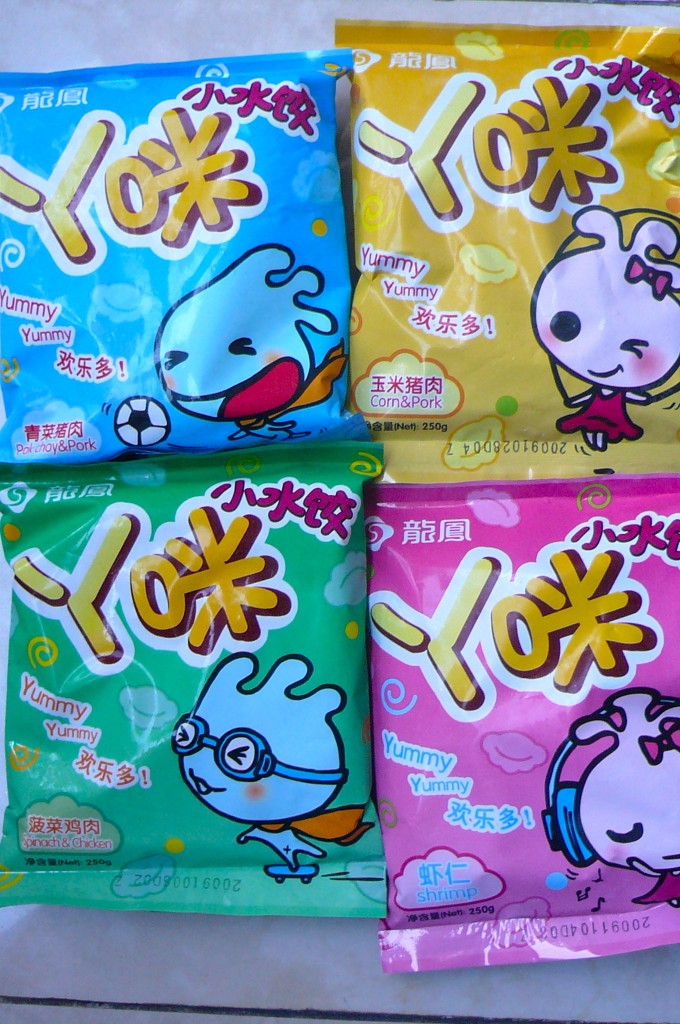 M is all over these. They are little kid-sized dumplings with different fillings. She doesn't usually eat very much – you couldn't keep a parakeet alive on what she eats some days, it seems – but she will always eat at least half a package of these. I don't want to feed her too much processed food in general but it's good to know I can always default to these when she is turning her nose up at everything else. (Although last night she ate several mouthfuls of fresh spinach sauteed with garlic, of her own accord, with no begging, pleading or bargaining from me – HURRAH! Off topic I know, but I am just so damn pleased about it.)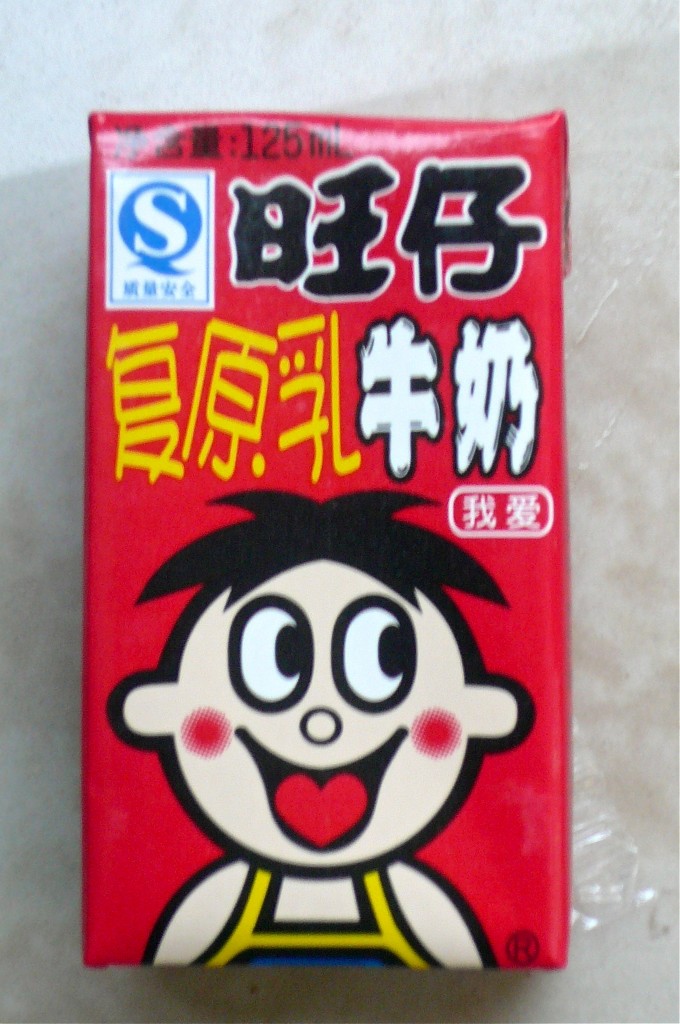 Lastly another one of M's faves. I don't know what this is called. In our house we call it "waawaa!", because in the commercials for it on TV, at the end of it they say "waawaa!" But actually the company that makes this makes several other food and beverage products and all of their commercials end that way, so it's obviously a branding thing, and not the name of this specific product. Doesn't matter though. We know what we mean when we say "waawaa!" in this house. It's some sort of milky drink, but maybe not cow milk, maybe soy. It's like Yoohoo, but not chocolate. Possibly it's very bad for her and I am a terrible mother for allowing her to have it, I don't know. Ignorance is bliss.
I know, I know, another long gap between posts. And actually lots has happened that I keep thinking 'oh I need to write this down.' Honestly I do not know where my time goes. Also when I started this I told myself I wasn't going to just use it as a platform to show off my awesome kid and look, here I am doing it again! But I have to because I must tell you about our day at The Barbie Store.
There's a 5 floor Barbie department store here in Shanghai. It only opened earlier this year, I think in Feb or March, and I'd read about it before we moved here. Hadn't visited until about two weeks ago, on my own – sort of a recon mission before bringing The Little Empress, so I would know what I was getting into! G is in NYC this week, so us girls had the weekend to ourselves. It was really cold and rainy and I needed to take her somewhere where she could run around and have fun, but I honestly didn't think I could stand going to another indoor playground ball pit thingie. It was time to introduce M to the great shrine of all things pink and plastic.
She's not THE biggest Barbie fan, but she does have some DVDs of Barbie movies and a couple of (fake, from the street market) Barbie dolls. Right now it's more about the movies than the dolls for her, but she has "Barbie stuff" as an entry on her list for Santa and she does really dig the movies. I knew she would have a brilliant time at the store – as you will see, it really is quite something.
We started out by having lunch at the Barbie Cafe on the top  (6th) floor, which, it must be said, is really rather good. I wasn't able to get a good photo of the interior though, so you'll have to tke my word for it that it is really quite chic. A bit art deco diner, a bit sixties pop art, a bit postmodern glam. Oh look, here's a pic I was able to swipe off the net: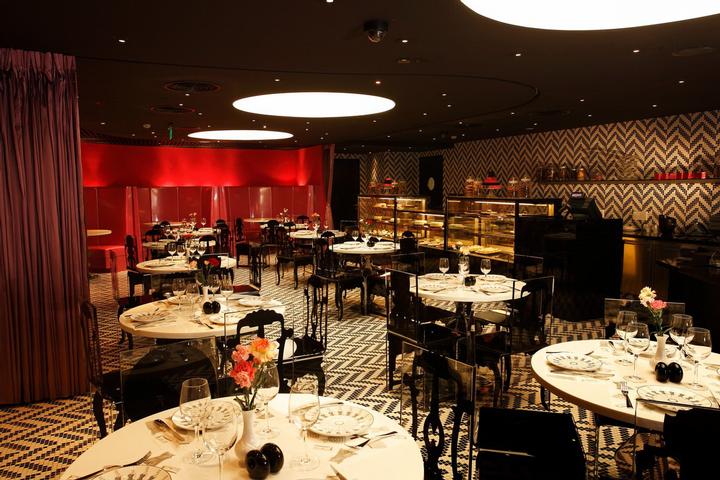 M of course wanted to sit in one of the pink booths and we ordered off the special "Mom & Me" menu – a prix fixe lunch menu with one adult meal and one kid's meal, plus a special gift for the child, 150 RMB. Not bad value. The gift M got was a very nice Barbie (duh) writing kit, a case with several pens and pencils, erasers, a ruler, that kind of thing. She of course was all kinds of in love with it straight away. Lunch was quite good; I had a pumpkin soup, corn salad, mango pork stir fry and watermelon slices, and M had pink pasta (I don't want to know how they make it pink), potato wedges with pink mayo dipping sauce (again, don't want to know), watermelon and corn on the cob (reassuringly yellow). Our meal deal also included dessert – pink lemonade, pink cake, bubblegum ice cream, and pumpkin spice chocolate chip cookies.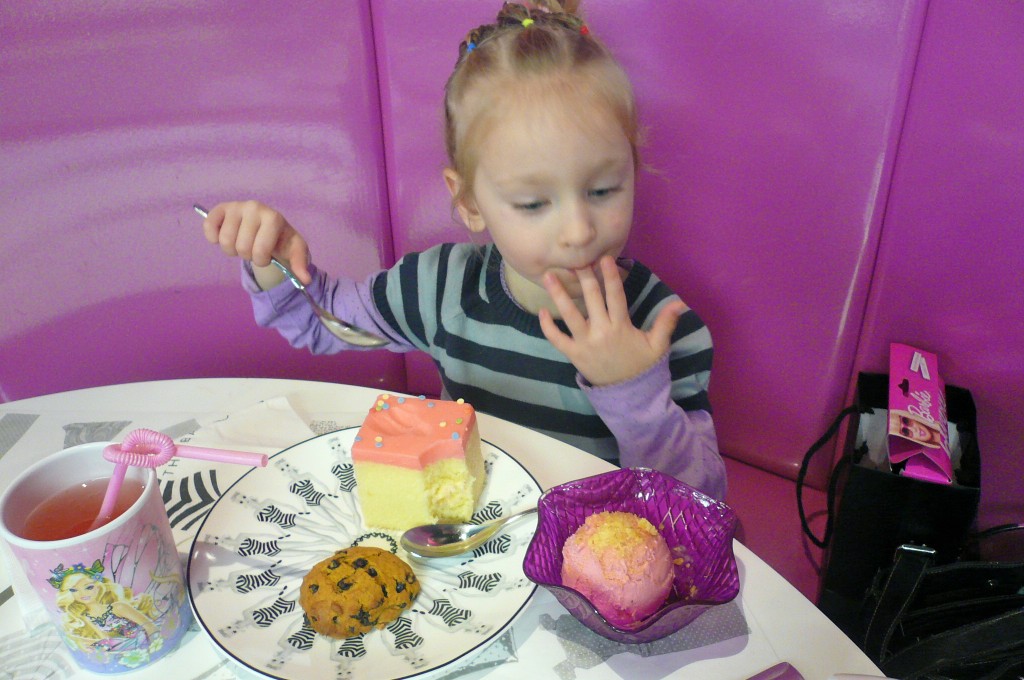 So then it was time to head down to the store itself. The 5th floor is mainly clothes and accessories for girls. We bought some slippers as she really did need some – it's gotten far too cold here for bare feet! – and hey, there was 75% off sale on a bunch of clothing, so we got a cute little top as well. There's also a little "Barbie bedroom" area up there with a slide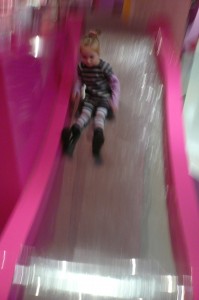 and one of these 'stick your face in in the picture' thingies (is there a specific name for such a thing?)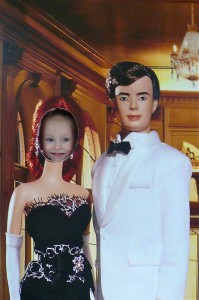 After this we headed down to the 4th floor. Connecting the 3rd-5th floors is a spiral staircase, walled in clear perspex with Barbies all dressed in differnt pink outfits – it's really quite striking.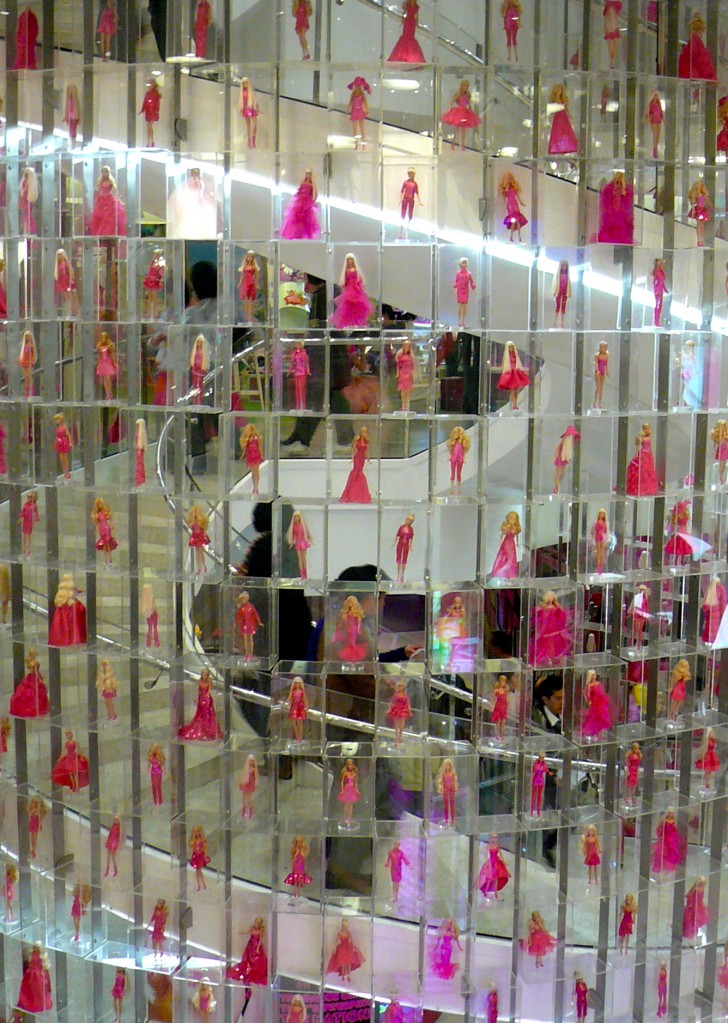 The 4th floor is where all the dolls are. Lots and lots and lots of dolls.
(I am somewhat comforted that of all the options, M seems to be drawn to 'Baby Doctor Barbie'…)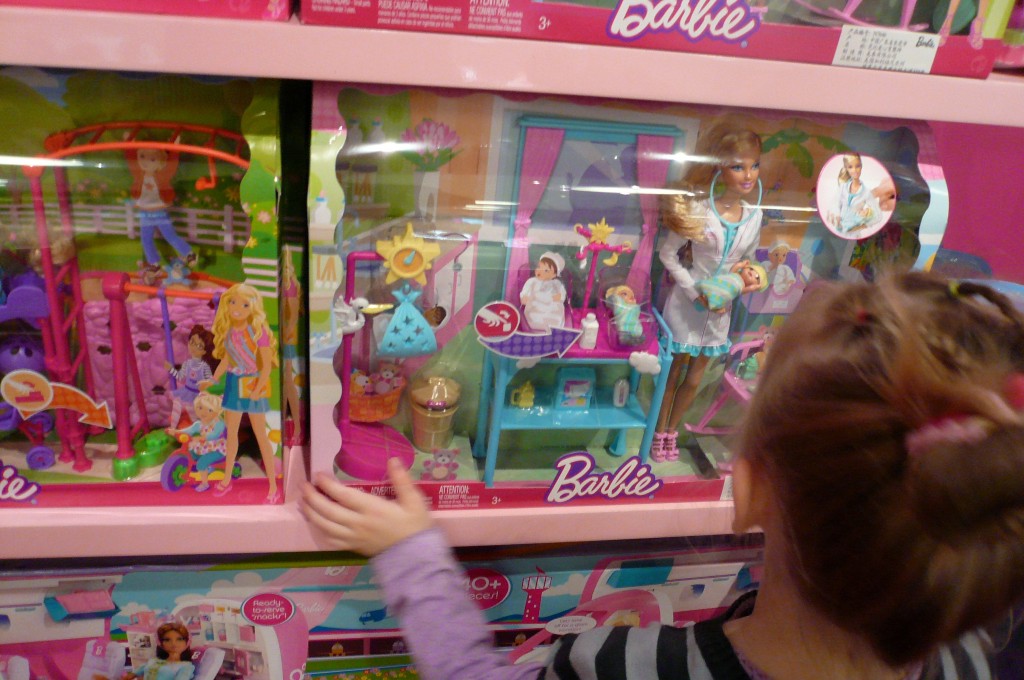 The 4th floor also has a a photo studio where girls can go and dress up like their favourite Barbie movie character, have a series of photos done, then the photos get put into a storybook so that they are 'playing' the central character. I know this may come as a complete surprise to some of you, but Barbie is not always Barbie – she is an actress you know, she plays other characters in her films. It's all very complicated. We gave that a miss, in any case, for now. On the same floor there is a Barbie exhibition gallery,  a pretty fancy schmancy one at that, featuring displays of iconic Barbie designs. I can't believe I'm saying this, but it's actually really interesting and pretty cool.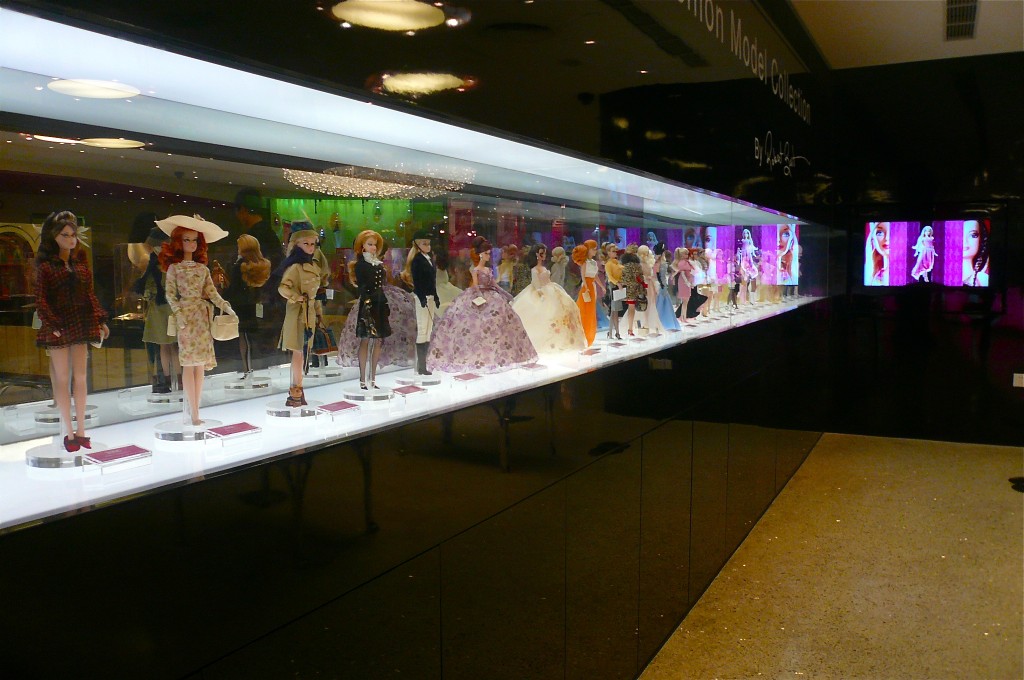 There is also a 'design studio' where you can go in and design your own outfit for Barbie, but that's all a bit beyond M at the moment, so we didn't go in. (Was positively humming with tweens in there though; I think it might have been a birthday party.) Instead we hung out for a bit with the giant shiny poodle.
Then we went down to the third floor and 'did the Barbie'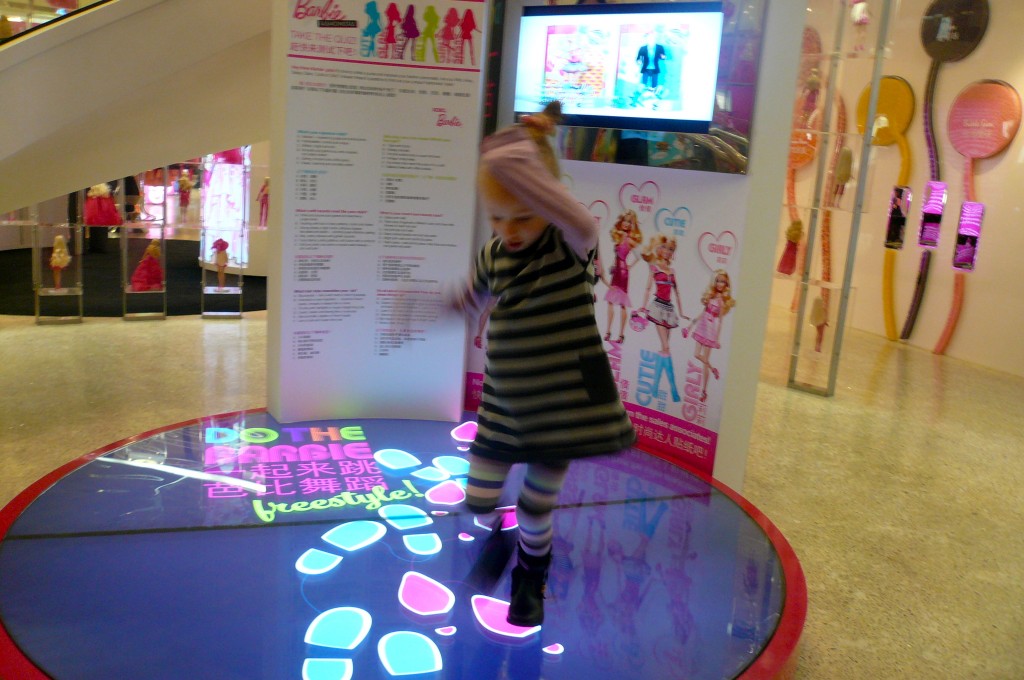 and bought some jellybeans.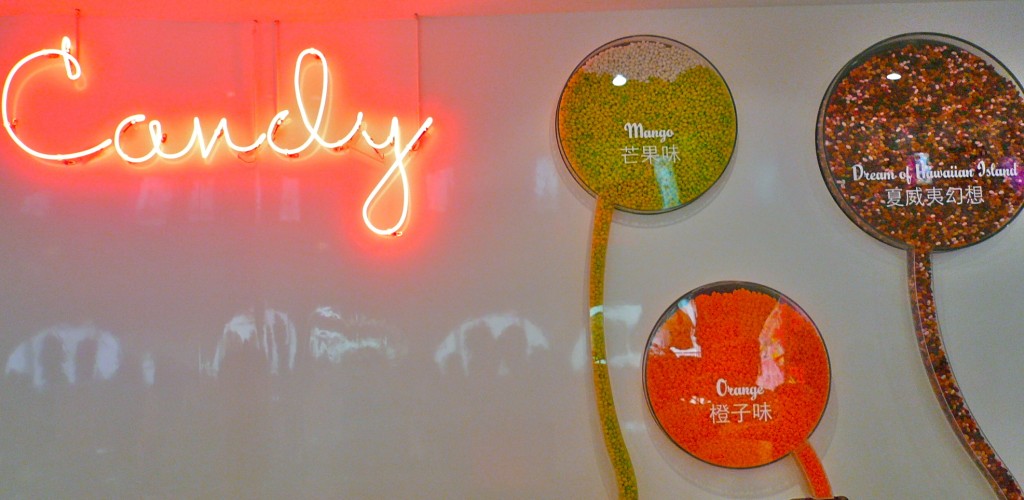 We bought the Barbie Party Mix, which as you might guess is rather heavy on the pink: mainly bubblegum and strawberry cheesecake, with vanilla, lemon and orange.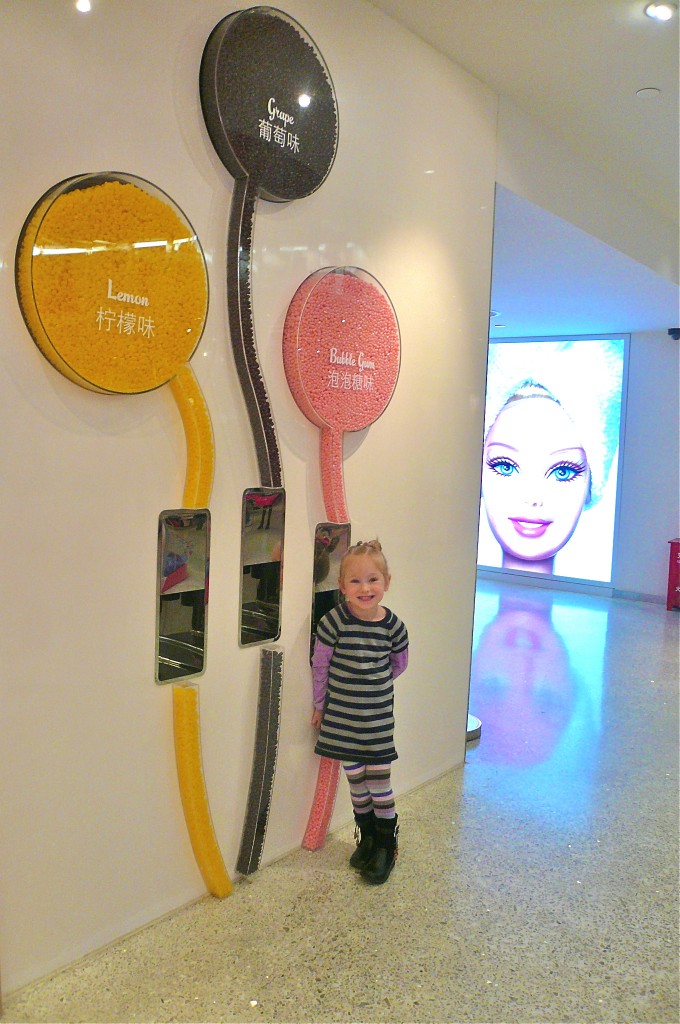 You'll notice in that last photo you can see a big image of Barbie with a towel on her head; that is because around that corner is where you can get the escalator down to the Barbie Spa & Salon on the 2nd floor.  Again, M is a bit young for this (thankfully) but apparently they do a roaring trade in birthday party packages.
Hours later we emerged, not too much poorer (aside from lunch we only bought the slippers, top and some jellybeans) but with glammy shopping bags to show for our efforts anyway. It was good fun, guess who slept all the way home in the taxi and hasn't stopped talking about the place since?